Digital Access to Visual Arts Collections
The Visual Arts collections (formerly the department of Prints, Drawings and Photographs) at the British Library are made up of about 250,000 photographs, 12,000 drawings by Indian artists, 16,000 drawings by European artists and a sizable collection of oil paintings, sculpture, furniture and ephemera. These unique holdings originate mainly from the library of the British East India Company and the India Office, although acquisitions continue to be made.
Researchers who wish to consult our collections of Prints, Drawings and Photographs, should start by searching the India Office Select Materials database (text-only).
These works are available to view in the Print Room, located in the Asian & African Studies Reading Room, by appointment only Monday-Friday (registered readers only - see Registering for a Reader Pass). To make an appointment please send a request to apac-prints@bl.uk.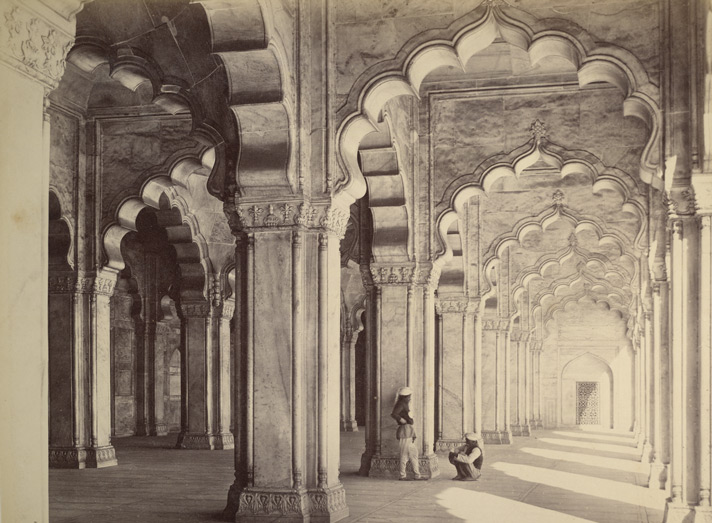 Interior of the Motee Masjid in Agra by Samuel Bourne, c. 1865. British Library, Photo 11/(54).
Links to digitised collections on the British Library's website and on external sites
Online Gallery: 15,000 prints, drawings and photographs focusing on the artists and photographers whose work provides a comprehensive account of the landscapes and architectural heritage of South Asia.
Oil paintings: relating to British Colonial rule in Asia from the eighteenth to the early twentieth century were digitised as part of the Public Catalogue Foundation's project in 2011. More than 200 images are available via BBC Your Paintings.
Company Paintings: Indian paintings drawn in a hybrid style that were directly influenced by European and British tastes during the eighteenth and nineteenth centuries. To locate 'Company paintings' on the Digitised Manuscripts website, please use the manuscript number prefix 'Add Or' to pull up all records.
If you would like to keep informed of updates to our collections and digitisation projects, please subscribe to our blog and follow us on twitter @BL_VisualArts.