Von Sy had always dreamed of being an entrepreneur and eventually decided to set up his own business using his skills as a chemist to help parents keep their babies bottles from smelling of stale milk. When starting up Von used the Business & IP Centre to help with market research which was crucial to getting his business off the ground. We asked him some questions.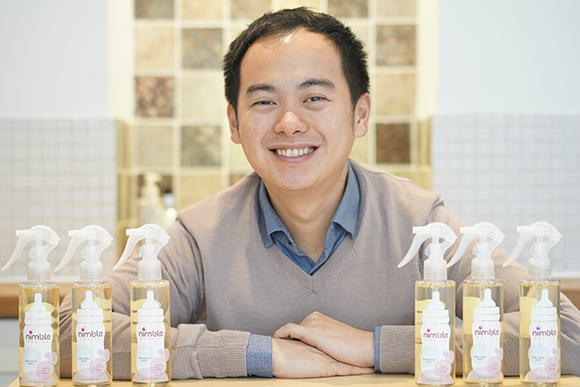 Where did the idea for your business come from?
One day my sister asked me, knowing that I'm a chemist, how she could get rid of the milk odour and film building up in her baby's bottles. She said that a regular washing-up liquid could do the job but she had to use loads of it and it made her bottles smell of washing-up liquid.
I thought that perhaps this was a problem that only my sister complained about, so I did a quick search online and, to my surprise, I saw a lot of parent blogs and forums that talk about similar problems in baby bottle washing and there was not a single brand out there addressing them.
Thus, I saw an opportunity to come up with a business that could help parents free their baby bottles from smelly milk residues.
What is so unique about your product?
Nimble Babies Milk Buster is a new washing-up spray that is specially made to remove smelly milk residues from baby bottles.
Unlike regular washing-up liquids that are made for heavy food grease, Nimble's patent-pending formula detaches milk fat and proteins from plastic surfaces.
It also comes in a spray format that mums love because it allows them to clean teats more easily.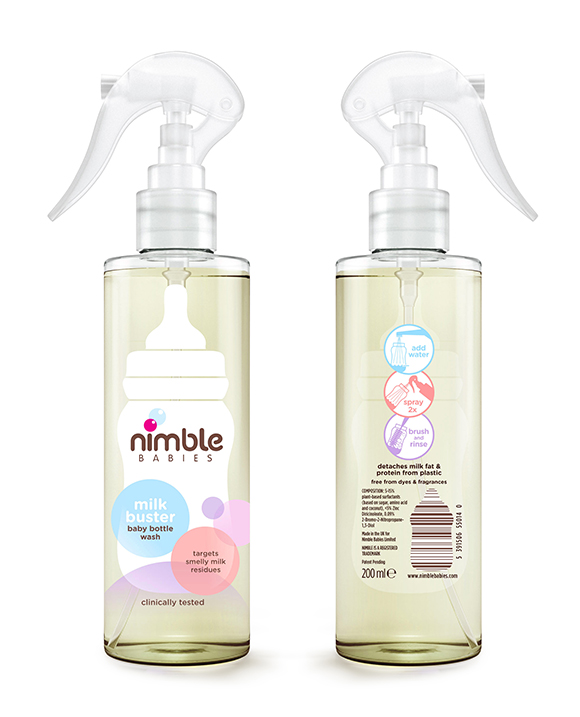 Have you always wanted to run your own business?
Most definitely! As a student back in the Philippines, I used to carry extra stationery items in my schoolbag which I sold to my classmates in case some of them forgot to bring their notebooks, paper or pens. In uni, I tutored Maths and Science to primary and secondary school students so that I would earn extra money on top of the money my parents gave me. I bought and sold things too like CDs and college rings. So since an early age I have been quite entrepreneurial, and this did not fade even when I was working for a huge consumer goods multinational for 10 years.
What planning did you do before starting up?
It took years before I managed to have the guts to leave my job. But whilst I was working as an R&D Manager, I would take evening courses on marketing, finance and economics to give me a basic understanding of other business functions.
I'd also read business books and watched shows like Dragon's Den to keep me inspired and aware. I also saved up money because I knew one day the time would come when I would be able to start my own business.
When I finally took the leap, I did a lot of market research work at the Business & IP Centre in the British Library and conducted surveys in cafes and shops (John Lewis in Oxford Street was my favourite turf) by randomly and cheekily asking mums for short interviews, as well as attending a number of workshops and networking events.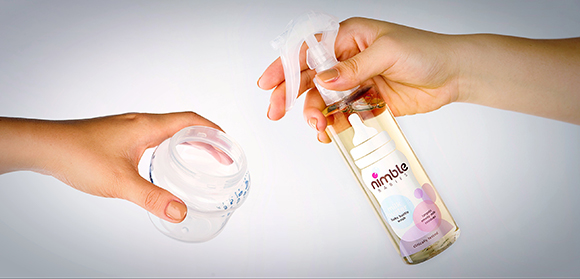 What challenges or obstacles have you had to overcome?
As I lived in the North (Liverpool and Leeds) for a total of seven years prior to moving to London, I did not know very many people who understood what I was going through as a new entrepreneur. I need to meet others who could help me figure out where to start and guide me in areas I wasn't experienced in: for example, graphic design, branding and accounting. And this is where going to networking events and doing my research at the Business & IP Centre helped a lot, as I got the chance to meet like-minded people who were at the same or more advanced stage as I was.
If you could have given yourself one piece of advice when you started what would that be?  
I would say to myself not to wait for everything to be perfect and complete before doing anything, because what matters most when you have your own business is that you're able to test your ideas fast enough to know if they will succeed or fail.
We are now taking applications for the next Innovating for Growth programme find out how you can apply today.