Happy Birthday ZOMBIE Collective!
ZOMBIE is a collective of five graphic artists and illustrators: Joely Brammer, Rebecca Jay, Alice Lickens, Maggie Li and Frann Preston-Gannon. Together they work on a range of creative projects and workshops. They took part in our first Spring Festival and created a giant illuminated manuscript with typographic collage. This summer they celebrated their third birthday. Here are some highlights from the party and on what inspires them.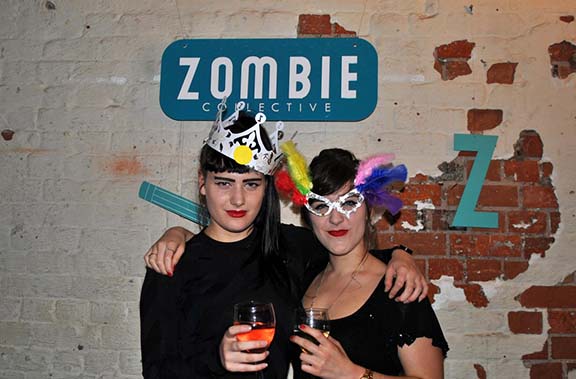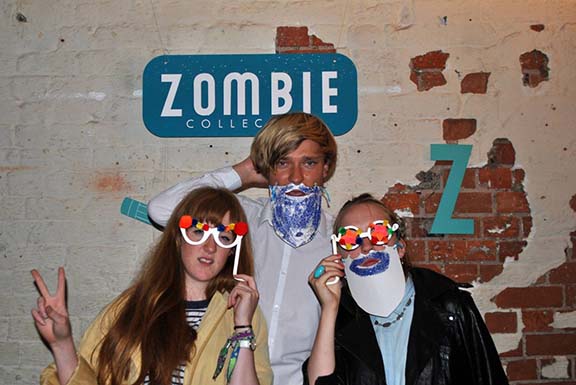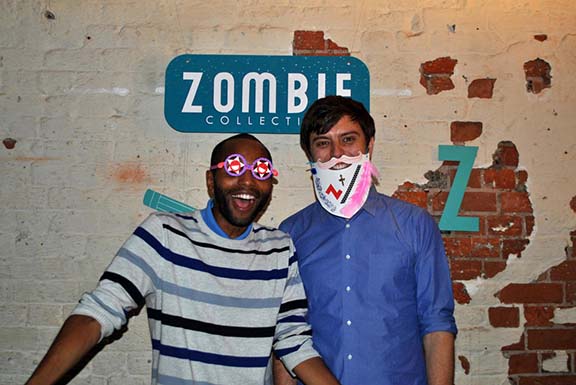 You guys know how to have fun! What happened at the party? 
The party was a celebration of three years of Zombie Collective therefore it was perfect occasion to let our hair down with friends, family and clients past and present. It was great to organise an event where the main purpose was to have fun! Joely made a Z shaped piñata which refused to stay attached to the ceiling and Maggie baked a Z shaped cake. It was all in the spirit of a children's birthday party so we included a craft table where people could make their own props such as moustaches, beards and crowns and then have their photo taken in the Zombie photo corner.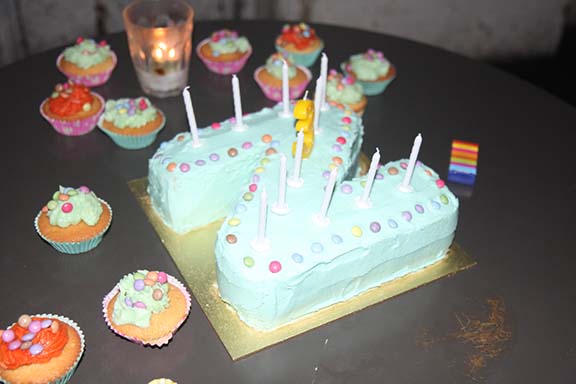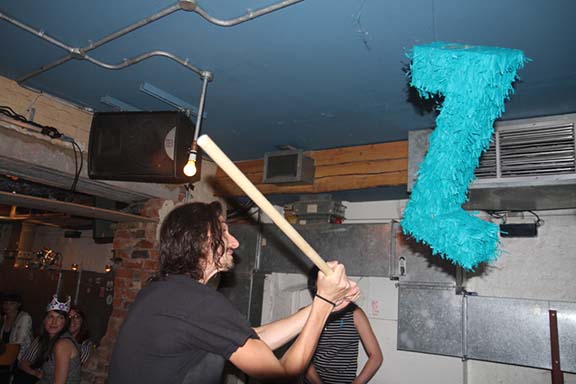 What have been your biggest achievements and challenges over the past three years? 

Over the years we've worked with some great people including the British Library, Tate Britain, Design Museum and the Hayward Gallery. Our biggest achievements to date have been our nautical themed show Fathoms Deep at the Hayward Gallery in May 2012 where we curated a show of 20 people and transformed their shop into a nautical setting. Our most recent event was at Pick Me Up, Somerset House in April 2013. We were selected as a collective to exhibit in the graphic arts fair which attracts a huge international audience. For this we created a 3D Ideas Machine which dispensed small objects to inspire creativity and new ideas.
It was challenging when we first started as new graduates unsure how to approach being a new collective. What we've found over time is that our different strengths help each other to tackle our creative challenges. Whilst it can be challenging to work in a group, and particularly as we don't share a studio space, our collective skills have been invaluable to the success of events.

 
ZOMBIE Collective at our 2012 Spring Festival - ILLUMINATE! A Celebration of Illustration (Buzz Films)

Where do you find inspiration? How does digital content inspire you compared to seeing the real thing?
Joely: Digital content is fantastic due to its accessibility.  At the click of a few buttons you can find a wealth of inspiring materials and reference points which you can then share quickly with others. I recently saw the Souzou: Outsider Art from Japan exhibition at the Wellcome Trust. I had seen the digital content online which had lead me to visit the exhibition. The intricacy and pattern making in some of the pieces was simply lost in the online versions.

Alice: I spend a lot of my time thumbing through books and old type catalogues to pick up the next idea. Hunting out things on the web is also invaluable and it's great to keep an eye on new work that's coming out as well as plundering those weird and wonderful internet finds like Bulgarian stamps from the seventies and all those amazing things that you wouldn't get to see otherwise.

Maggie: The internet and digital content have been indispensable when it comes to my work as I often have to research subjects I know nothing about under tight deadlines. It's vital that I can access information quickly and the wealth of content online makes my job easier in a way. Having said this nothing compares with seeing original artwork and artefacts. I like to think digital content opens us up to more things and generates curiosity to go out and see the real thing, which can only be a good thing.

What are your plans for the coming year?

We're currently in talks about putting together a new exhibition in the new year. Alongside the show we're planning a series of events such as talks from industry professionals and portfolio surgeries to help out fresh graduates and young illustrators. We're also delighted that Frann, Maggie and Alice will have new books released in 2014 from Anova.
Photos courtesy of ZOMBIE Collective