Earlier this year, the British Library launched its first ever Alice in Wonderland Pop-up Shop in our Entrance Hall in London. It's part of our ā€˜Alice experienceā€™, supporting our hugely popular Alice in Wonderland exhibition celebrating 150 years of Alice. Both the exhibition and Pop-up Shop are open until 17 April 2016.
We interviewed Buyer Maxine Hellenkamp from our Commercial Team who led on the project.
What was the concept behind the Pop-up Shop?
The idea of the Pop-up is to revive peopleā€™s passion for Alice in Wonderland. We wanted to create a fun, inspiring retail experience to tie in with our exhibition. Itā€™s a very playful space.
A lot of people are familiar with the Alice illustrations created by Tenniel and Disney. Yet we wanted to remind people of Lewis Carrollā€™s original manuscript, which is on display in our exhibition.  So when you come into our Pop-up, you'll see lots of life-sized images of Carroll's hand-drawn characters and Tennielā€™s illustrations.
We invite our customers to feel part of the story. You can ā€˜fall down the Rabbit Holeā€™, past the Drink me potions, enter the Garden and the Mad Hatterā€™s Tea Party. Weā€™ve used Victorian-style furniture which, inspired by the book, plays with a sense of scale.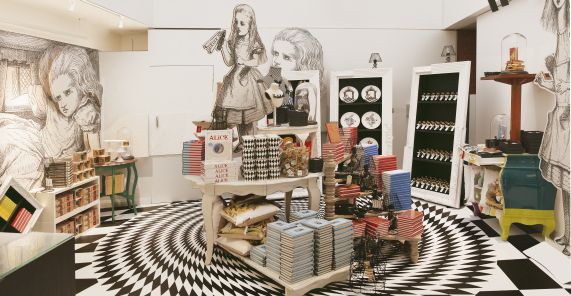 Our black and white colour scheme (including a swirling, chequered floor) takes inspiration from earlier Alice illustrations. Our aim was to create a neutral backdrop for our colourful product range.
We worked with visual merchandising company Exhibeovm to help us develop the concept, a process that works really well. We always bounce around ideas and come up with something new.
This is a new, experimental commercial space for the Library. We wanted to use this project as a way of testing customer demand. So far itā€™s been a big success.
We wanted to attract visitors to our Alice exhibition, which range from Alice Aficionados, seasoned cultural visitors who may be familiar with the Libraryā€™s exhibitions and London tourists who are enticed by our free exhibition. The Pop-up has also generated lots of buzz in press and social media which has also brought in new audiences.  We want customers to see our Shop as a destination in its own right.
Do you have any favourite products?
As part of the project, we ran a design competition with Etsy UK called ā€˜Redesigning Aliceā€™.  We invited designers to create new products inspired by Carrollā€™s manuscript which we stock in our Shop.  We had over 550 entries and a fantastic judging panel including the Head of Interiors at Libertyā€™s.
I love the range of products by competition winners ChĆ" com Letras.  They produced a series of hand-drawn prints which you can see on everything from notebooks to lampshades.  Selling their range also helped us branch out into homewares, which is something new for the Library Shop.
Another favourite of mine are the set of pencils produced by Pobble & Ping. Founder Emily Winter runs her business from her kitchen table in a small village in the chilly north of Scotland. All her pencils are hand stamped using a hot foil stamper and are made from fast growing and renewable wood.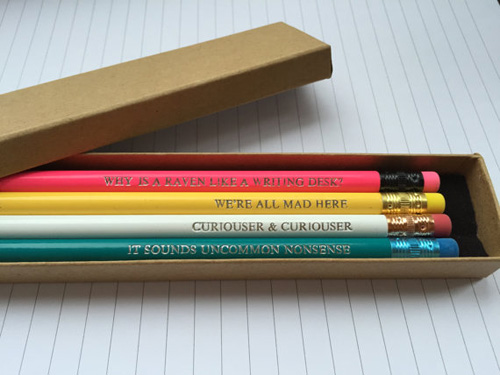 Lastly, I like the Little Moose jewellery range ā€" the Cheshire cat disappearing necklace is so simple and clever.  When we originally approached them we were expecting three or four pieces, they then went on to design three or four ranges!
You can also see some of the fantastic products in the Pop-up that came about through partnerships with Moleskine, fashion brand YMC and 10/6 London.
Why is retail so important to the Library?
In the current climate, itā€™s essential for libraries and museums to continue to grow their commercial offer. All proceeds from our Shop go to supporting the work of the Library and our collections. A lot of people donā€™t realise weā€™re also a registered charity!
However it isnā€™t just about generating money. The Shop helps us reach out to new audiences ā€" the Pop-up has been picked up by the Evening Standard, London Pop-up and Stylist before Christmas.
 The Pop-up has been hugely popular; we can see itā€™s something that visitors to the Library want and enjoy.  It also enables us to take a playful approach to our collections, adding a fresh design twist to classic literature.  A large theme of the Alice exhibition is about how it has inspired new work.
Our Pop-up has helped us reach new audiences and has spread awareness of the British Library beyond our usual visitors. So it has lots of benefits for us.
How did you get into buying and why do you love it?
I started working in the British Library Shop nine years ago. I managed the childrenā€™s book section and I loved doing research for new titles.  Over time I moved from books to buying gifts and Iā€™ve worked on exhibition campaigns for Mughal India, Royal Manuscripts, West Africa, Propaganda and the Magna Carta.  Iā€™m always working on different things so I never get bored.  You learn a lot for each campaign.
Museum retail is changing; audiences are shifting and becoming smarter. Gone are the days of just producing rubbers and bookmarks (although we sell those too).  We need to give people quirky, intelligent products that cover the whole range of books, clothing, accessories, homeware, stationery and gifts.  Our strapline is ā€œQuirky books and gifts for the curious and literary-mindedā€.
Following on from our success with Alice, look out for our Punk Pop-up Shop and exhibition opening on Friday 13 May.
Interview by Fran Taylor
Corporate & Commercial Marketing Manager