It's not often that you hear actual whoops of joy in the British Library (as opposed to reverent gasps of admiration), but there were plenty of cheers on 20th June during the CILIP Carnegie and Kate Greenaway Children's Book Awards.
These annual awards are the UK's oldest and most prestigious awards for children's literature. Previous winners of the Carnegie include Arthur Ransome,  Margaret Mahy, and Terry Pratchett, and literary giants such as Raymond Briggs, Helen Oxenbury, Shirley Hughes and Quentin Blake have all won the Kate Greenaway Medal.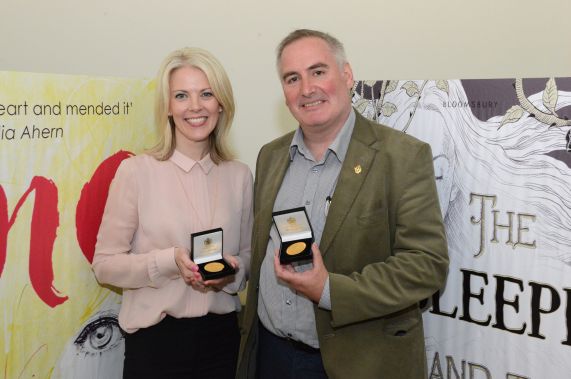 Award winners Kate Crossan and Chris Riddell at the CILIP Carnegie and Kate Greenaway Children's Book Awards, held at the British Library, 20 June. Photo by: Rolf Marriott.
An audience of readers, writers, librarians and publishers packed the British Library's auditorium to the gills and ensured that the awards were a true celebration, not just of the shortlisted authors and illustrators, but also of the vital role of library and information professionals in making these works available to a diverse audience of readers.
I sat next to some of the young people who had been part of the shadowing process and it was a privilege to witness their enthusiasm for the shortlisted books and the passion and conviction with which they were willing to share their recommendations with me.  I duly got a copy of Lies We Tell Ourselves by Robin Talley and devoured half of it in one sitting after work.  This was the winner of the inaugural Amnesty CILIP Award in the Carnegie category, alongside There's a Bear on My Chair by Ross Collins in the Kate Greenaway category, both awarded for the way they examined human rights issues.  As Amnesty International posted in their blog:
'ÄúThe best books are more than plot and character: they have human rights at their core and are a vital tool in developing empathy. More than that, they can give children the awareness and confidence to stand up and shape a better world.'ÄĚ
Sarah Crossan won the Carnegie Award for One, with shouts of 'ÄúYES'ÄĚ from the audience and Children'Äôs'Äô Laureate Chris Riddell became the first person to win three Kate Greenaway awards with The Sleeper and The Spindle.  Both made passionate and inspiring speeches about the value of libraries.  You can watch the recording of the event here 'Äď don'Äôt miss Chris Riddell'Äôs live sketch [1:03:54] and Robin'Äôs Ince'Äôs final joyous flourish when he pulled out his own library card and declared [1:15:05] 'ÄúDo you want to go on an adventure?'ÄĚ  Yes please.
Liz White
Head of Strategy Development