I was in my local Sainsbury's when I noticed bottles of expensive drinks which had a grey plastic device over their necks, clearly meant to prevent theft.
The wording on them said that it was called BottleLox™, that it was manufactured by Catalyst under licence granted by Plescon, and that it was
Patent NO 6 822 567
and others worldwide
I investigated and found an American patent with that number, the Security device for a bottle. The inventor was Paul Francis Durbin of Hertford, England, and the applicant was Plescon Limited, which is in Suffolk, also in England. It has traditionally specialised in security solutions for libraries. It is odd that an American patent should be featured on a device for use in Europe. Here is the main drawing.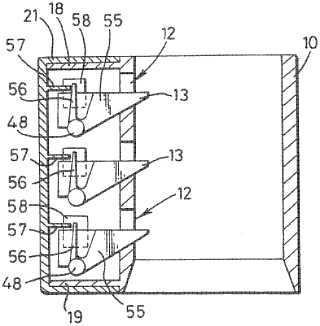 The patent explains the mechanism, which involves magnetism and can involve a RFID. The device must of course be cheap, reliable and easy to remove by authorised personnel. The patent was classified under the ECLA system as being for the prevention of theft of spectacles, instead of the more general and relevant class for anti-theft devices for articles to be removed at the check-out of shops. Many are for clothes, of course. The 151 currently indexed in that class that have been published in the so-called World (PCT) system are listed here.
US Design Patent 540650 shows what the device actually looks like when secured to the bottle.
A well-known security tag that formerly, at least, was often found attached to clothes is Identitech's Article surveillance system having target removal sensor. It is a white, flattish device. If someone departs with one still attached to the garment, a ferromagnetic effect sounds an alarm as the person walks through a special gate next to the door. The drawing shows the tag partially opened.