The British Library's caterers, Peyton & Byrne, have recently introduced a "KeepCup" to prevent wastage with disposable cups that are taken away by staff wanting hot drinks.
The idea is that you buy one for £6 and get ten free hot drinks. You simply take the cup in when you want a drink, instead of using disposable cups. It's all part of corporate social responsibility: it is up to the user to clean a cup, rather than using fresh cups. The illustration shows one of the models (you can choose colour combinations, to personalise so that others don't pick up your cup). The brown top seals in the hot drink, the red tab can be swivelled to enable a small drinking hole to appear, while the red band round the actual cup is supposed to insulate the hands when holding it. The claim is that the drink stays hot for 30 to 40 minutes longer than disposable cups.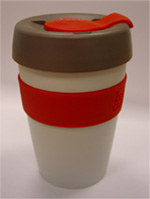 The cup itself is always the same colour and is made of polypropylene, as indicated by a recycling code at the bottom.
My colleague Maria Lampert bought one and noticed data at the bottom and, as she too works in intellectual property, wanted to know about any protection for it. The information is:
Keepcup™
keepcup.com.au
Des. Reg #
324241
A low design number usually suggests an American design, and the use of # instead of no. is typically American, but the USA has "design patents" and not "registered designs", and the Australian web site was a strong hint of its real origins. Maria quickly identified what seems to be its only design protection, Australian design 324241, registered in February 2009 by KeepCup Pty Ltd.
Below are the drawings shown for AU 324241 S from the official website.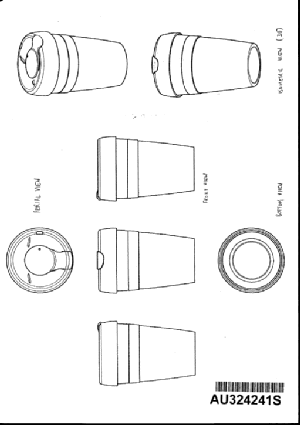 Despite the use of the TM symbol, which means not registered, it is in fact registered as a trade mark for "cups and mugs" in many countries (including the UK) through the Madrid Agreement Protocol as no. 1015268. Unlike the TM it would have force in civil law countries such as on the European continent, so the correct ® symbol should be used by the company.