Mexico Heads to London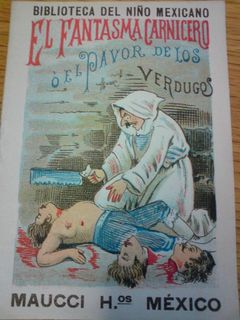 Exhibitions at St Pancras are an important part of the Library's activities, but we also regularly support exhibitions in other institutions. Down the road at the British Museum, our early map of Tenochtitlan is just one of the items that we have lent to Moctezuma: Aztec Ruler.
A bit further a field, our copy of a 17th century book printed in Mexico featured in the museum of San Ildefonso's exhibition on the Missions of Northern New Spain 1600-1821 in Mexico City. Aquiles, our Latin American curator, went to retrieve the book recently, and during his brief stay in the city, he came across a complete collection of the Biblioteca del Niño Mexicano (Library of the Mexican Child).
It consists of 110 little pamphlets, arranged in 5 chronological series, which present stories from Mexican history for children. Printed by the Maucci Brothers in Barcelona between 1900-1901, and written by Heriberto Frias, the pamphlets feature striking (and often quite blood thirsty!) colour covers by the great Mexican printmaker José Guadalupe Posada (1851-1913), best known for his calaveras (skeleton figures) and his satirical illustrations of political and social issues. You might have spotted a couple of the covers reproduced in the aforementioned Moctezuma catalogue.
Aquiles' great find has now arrived safely at the Library and no doubt a few of the pamphlets will feature in the exhibition that we are planning on Spanish American Independence for the Folio Gallery (from late May). If you want to see some of Posada's work before then, the BM's Revolution on Paper: Mexican prints 1910-1960 opens next week.
[C. H.]