15 October 2009
The North West Passage and the Serial Set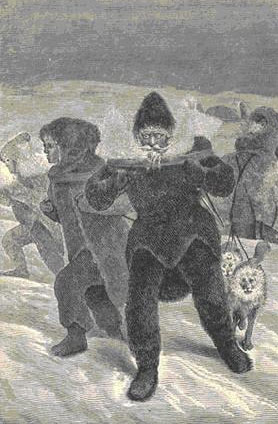 With reports on the possibility of shipping in the Arctic within a decade in mind, our Official Publications curator writes about some of his recent findings among the many government documents held by the Library:
While following up a lead on Benjamin Franklin in the digitised U.S. Congressional Serial Set,
I stumbled across a later reference to Sir John Franklin's 1845 exhibition to search for the North West Passage.  The item in question was a short Senate Report from the Committee on Military Affairs (47th Congress 1st Session  Report 655) requesting authorisation for the full payment of salary to a U.S. Army lieutenant, Fredrick Schwatka, who had taken leave to search for written evidence left behind by the ill-fated Franklin expedition.
Schwatka set off in June 1878, commanding a group of four others and accompanied by Inuit guides. Although the exhibition did not recover any written evidence left by Franklin's expedition, the Proceedings of the Royal Geographical Society described Schwatka's two year exhibition "as remarkable and in many respects his journey is without parallel [for having survived in the wilderness of the Arctic] without loss and without accident of any kind".*  Additionally, The Times applauded Schwatka for clearing the "reputation of a harmless people from undeserved reproach."
While both Franklin's and Schwatka's stories are well known (for example, James Anderson, Searching for Franklin (1999)), it is always comforting to know that the Congressional Serial Set's official record can offer up insights into events such as the search for the North West Passage.  Now back to my lead on Benjamin Franklin...
*Vol. 2, No. 11 (Nov., 1880), pp. 657-662  [BL shelfmark: Ac.6170/2]
[J. D. J.]