18 December 2009
Speakin' O' Christmas
Team America is beginning to think about Christmas, not least because of the arrival of a smattering of snow in London today.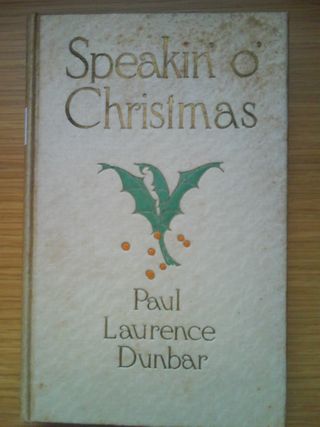 Over the last few years we've been adding to our collection of dialect poetry - a quasi-colloquial form of poetry written by African-Americans at the turn of the twentieth-century. Dismissed, often with good cause, as oppressive or exploitative minstrelsy, dialect poetry has seen something of a scholarly renaissance in recent years.  Some of it was self-published, but poets such as Paul Laurence Dunbar also found mainstream success.  Dodd, Mead & Company in particular published a series of beautifully produced volumes: our copy of Dunbar's Speakin' O' Christmas (1914), which we acquired last year, is still beautifully crisp on the inside, and the gold on the cover still sparkles.  As well as the poetry, the reader is treated to a series of photographs of people enjoying the snow at the turn of the century ('An' you'd git your gal an' go' is the caption for a group sledging).
In the summer of 2007 there was a special issue of African American Review on Paul Laurence Dunbar, and it's a good place to start if you want to find out more.