23 December 2009
Unfortunately, Aquiles cannot be with us tonight... the Medal Jose Mindlin for Cultural Achievement
Aquiles, our Latin American curator, writes:
As some of you may be aware, I have recently been awarded the Medalha José Mindlin for cultural merit. This prestigious prize is granted every year to a person elected by the Association of Brazilian Bibliophiles who has stood out for representing and disseminating Brazilian culture and literature abroad. I was thrilled and taken completely by surprise when I learned about the prize. 

This medal is in recognition of the work I have done at the British Library and in association with the Brazilian embassy in London which has been very supportive of my curatorial activities, especially in the organisation of Latin American literary events and exhibitions in the UK such as the Semana Machado de Assis and the Spanish American Independence Movements online exhibition. For the organisation of these cultural activities I have used a variety of resources from our Latin American collections such as Machado de Assis' early poetic works Chrysalidas (1864 - BL shelfmark 1607/4821) and Phalenas (1869 - BL shelfmark 11450.bb.48) published in Rio de Janeiro much before the author became famous as a novelist and considered to be very rare.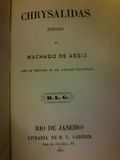 I was represented in the award ceremony by my parents who received the medal on my behalf in Brazil last week. I know there are innumerable other professionals who, like myself, through their work are deeply engaged in the promotion of Latin American culture abroad and I would like to share this prize with them.