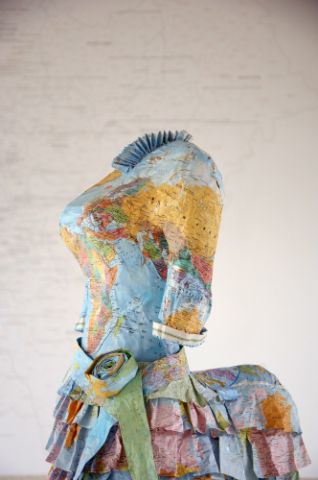 Colonial Dress © Susan Stockwell, 2009. Photograph © Colin Hampden-White, 2010
One of the things that has most interested me about the Magnificent Maps currently inhabiting our Paccar Gallery is its illustration of the myriad shapes, forms and situations in which we find cartographic objects. So, when I heard about the Royal Geographical Society's (RGS-IBG) new exhibit, The Creative Compass and the innovative perspective it would cast on mapping I was intrigued to see what would result.
The exhibition is based on the work of Susan Stockwell and Agnès Poitevin-Navarre, who drew inspiration from the RGS archives to visualise different ways of engaging with and thinking through maps. While items such as a map of Afghanistan made of US dollars and a Proust-inspired map of London all caught my eye, I spent most of my time looking at Susan Stockwell's The Colonial Dress, which has Africa as its centre. While the RGS is an institution historically associated with male endeavour and derring-do, the piece is a tribute to the women who, while historically invisible, were a central part of the 19th- and 20th-century geographical and colonial endeavour. Whether it be Mary Livingstone helping the sick in Africa, Geraldine Moodie photographing the Arctic or Mary Kingsley exploring Africa, the colonial period was as much defined by these individuals as it was by their male counterparts. To cap it all, invariably they did their work in dress similar to the one above, quite a feat while hacking through the jungle or ploughing through the Arctic.
Stockwell's dress stands in the RGS as testament to those women while also reminding us as to the many shapes and forms of the map. The design will please Tom, our own Curator of Antiquarian Mapping, who is itching for more people to visit Magnificent Maps in 'matching dress'. So, why not do both in the same day? The Creative Compass is on display until 2 July and Magnificent Maps runs until 19 September
[P. J. H.]