28 July 2010
Monticello and the Great Pumpkin
[M.S. writes] Yesterday brought sad news of a tragic culling of pumpkins in my colleague Jerry's shared garden.  His young daughter had been carefully growing some of these fine american plants, but discovered that the pumpkin patch had been destroyed by a zealous neighbour.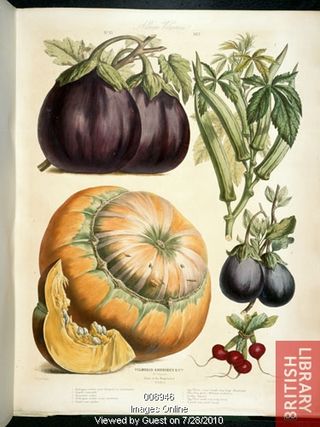 [N.Tab.2004/11, plate 23]
Thankfully, Thomas Jefferson took a keen interest in gardening, and this tradition continues to this day at Monticello.  On a recent visit, I brought back five packets of seeds (the maximum allowed by HM Customs, as long as they are not potato seeds, which risk being blighted).
As a result, I've been living off kale and lettuce, which are growing in zinc drink bins outside my window.  Six pots of pumpkins have also been making their viney way along the fence, and one of these is now on its way north with Jerry...