Hidden Histories in the North West Passage: finding H.M.S. Investigator
 
H. M. S. Investigator on 20th September 1851. From The Discovery of the North West Passage by H. M. S. Investigator Captain R. McClure [Shelfmark: 10460.e.10.]
Team America has noted the increasing interest being paid to the North West Passage as the prevalent conditions of the Arctic shift and geopolitical opportunities are perceived.
Last week archaeologists in Canada used the latest technology in order to locate and create images of the ship H. M. S. Investigator, which lies submerged in Bank Island's Mercy Bay. The Investigator became trapped in ice in Mercy Bay while searching for Sir John Franklin's expedition, which had gone missing while attempting to locate the North West Passage. While Captain Robert McClure's expedition failed to find Franklin and his crew, his extensive search of the seas to the North of Canada has been credited with finding what Franklin himself was looking for; a seasonally navigable channel that could be used as the North West Passage.
The logs and measurements produced by McClure and his crew were extensively published after they were rescued and returned to England. These publications are now part of the Library's collections, so when I read about the Investigator being located, I thought I would order up The Discovery of the North West Passage by H. M. S. Investigator Captain R. McClure (edited by Commander Sherard Osborn, London: Longmans, 1856, Shelfmark: 10460.e.10.). The detail of the account is quite something and the maps in particular are worthy of note. If you follow the link above to the CBC story you will see a Google map at the bottom noting where the Investigator has been located; this location is marked pretty much exactly in the map provided below, from McClure's account. Indeed it illustrates just how accurate naval mapping was and is.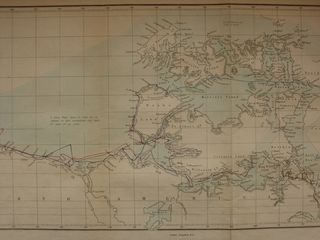 Location of H. M. S. Investigator (northern most dark blue annotation), from The Discovery of the North West Passage by H. M. S. Investigator Captain R. McClure
There is much more detail and nuance to the search for the North West Passage than this blog post can give. For more on our North West Passage collections there is an Online Gallery feature on the topic. And there are other materials related to H. M. S. Investigator in our Manuscripts collections [Shelfmarks: Add 35308 & Add 35309] and Maps [Shelfmark: Maps.C.18.b.11].

[P.J.H.]