21 October 2010
Interconnected worlds: thinking across the Library's collections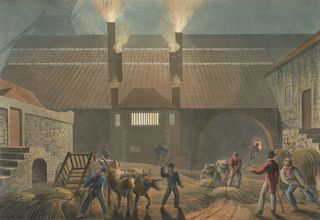 "Exterior of the Boiling House, Antigua" from William Clark (1823), Ten Views from the Island of Antigua (Shelfmark: 1786.c.9)
Tuesday 13th October saw various members of British Library staff come together to produce a public display of the Library's African, Caribbean and South Asian materials. The event sought to mark Black History Month and highlight the cross-connections that exist between the Library's collection areas. In doing this the event also aimed to assert the interconnectedness of Africa, Britain, the Caribbean and South Asia over a long historical period, with display items covering the early 1600's until the mid twentieth century.
The Caribbean materials on display articulated how these interconnections were expressed through knowledge transfer, individual biographies, the development of industrial processes and the growth of globalised transport networks. The arrangement of African and South Asian materials around those from the Caribbean provided further details and nuance to the narratives on display, illustrating how cause and effect operated on a global level, in particular as a result of the slave trade. The display of account books from slave traders based in Africa (some of which can be found at Shelfmark: Add ms 43841) and letters detailing the kidnap, sale and enslavement of individuals (an example is John Toogood's 1720 account, held at: India Office Records/E/1/11 ff. 326-328v) added depth to the displayed illustrations of slavery in operation in the Caribbean, represented in part by William Clark's idealised depiction above. Further, the display of India Office records regarding the transportation of indentured labour from South Asia to the Caribbean (for example: India Office Records:L/PJ/1/86), one of the responses to the ending of the slave trade, again illustrated how developments in one area could have marked effects on another.
While the event attempted to illustrate through the Library's collections that the global interconnectedness we perceive as being a modern phenomena is not, in fact, new, it should still remind us of the myriad connections people and places maintain across the globe today. Indeed, this is part of a theme of an event being held at the Library next week, on the 25th October. Entitled "Our Memories of the Uprisings: the 1980's revisited", the event seeks to discuss the unrest of the 1980's, its causes and contexts, and highlight the continuing significance of these years to multicultural, globalised contemporary Britain. Here too we can perceive how the Library's collections of interconnected materials, from newspapers, to oral histories, to music and printed books provide opportunities for detailed research into the subject.
[P.J.H.]