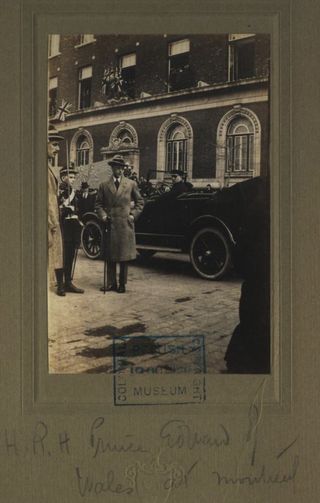 Prince Edward visits Montreal during his 1919 tour of Canada. Image by Herbert Black. BL shelfmark: HS/85.10
Friday's royal wedding is not just a big deal here in the UK but also across the world. Canada in particular has long had a fond relationship with the Royal Family, as illustrated by the above (abbreviated) quote given by King George VI on a visit in 1939. The quote actually addresses Winnipeg as a testament to the achievements of Empire, but the King's meaning could be extended to Canada as a whole.  Seen in this light, the current enthusiasm of Canadian politicians and broadcasters for the wedding of Prince William and Kate Middleton (even with the impending election) can be seen as an extension of a trend with deep historical roots.
As for the Library's collections, the photographs in our Canadian Colonial Copright collection offer a lens on this enthusiasm through the visit of Prince Edward in 1919. I have blogged on this previously and the image above depicts part of this visit, but I want to note here that the volume of images in the collection is intriguing. As a copyright collection the number of photographs speaks to the perceived value of the images of the Prince as well as public interest in him, making them a notable cache within the collection. And Edward is not the only member of the Royal Family present in these photographs, Victoria is mourned and George V celebrated during the span of the collection's life (1895 – 1924).

Of course, these images are not the only source of information about the Royal Family in North America in the Library, with various trips by a variety of Family members well documented in the nineteenth and twentieth centuries. Of particular note, the 1939 visit of King George VI and Queen Elizabeth to Canada and the United States is covered in some interesting literature, such as George Young's Voyage of State (London: Hodder & Stoughton, 1939, Shelfmark: 010470.k.5), and Keith Gordon's North America sees our King and Queen (London: Hutchinson and Co., 1939, Shelfmark: 10805.g.46) which provide some contemporary insights into this particular piece of pre-war relationship building. Lastly, with Canada's enthusiasm for tomorrow's wedding and the forthcoming visit of Prince William and the Princess Katherine to be, the relationship between the Royal Family and Canada is something that will continue to be evidenced through the materials in the British Library.
[PJH]