15 April 2011
On the Road: British Association for American Studies, Preston, 2011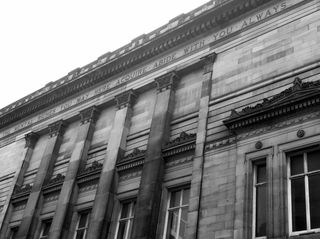 'The mental riches you may here acquire will abide with you always'
I'm in Preston for the annual British Association for American Studies conference.  We've heard about the politics of attacks on 'black homophobia', the current state of American Studies in India, Roosevelt's decision to run for a third term (reached in 1939, rather than 1940 as generally held), Truman's use of the rhetoric of the founding fathers, the use of Web 2.0 in teaching and mentoring students overseas, and - in the Eccles Centre lecture by Nigel Bowles - a bracing run through the recent banking crisis and the consequences and prospects for public policy.  And it's only the third session.
We also had a drinks reception this evening, which was a chance to hear about what people are working on in an informal setting, and what they want from a library to support their work (resources for student dissertations, visual materials, remote access, newspapers, newspapers, newspapers), as well as learning a little more about American Studies in China.
The reception, which was sponsored by Manchester University, next year's host, took place in Preston's Harris Library, a photo of which is above.  The inscription is wonderful.
Here's a short account of last year's conference.  And Phil, of course, has just been to BACS.
[MS]