Ring Any Bells? Paul Revere and printmaking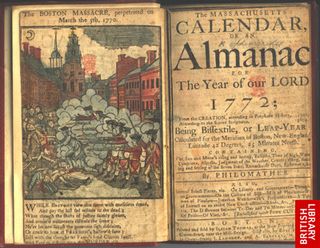 Paul Revere is, it seems, an echo of a memory of something that happened.  But as well as taking that pesky (from the British point of view) ride on the night of 18-19 April 1775, when he rode to warn Samuel Adams and John Hancock in Lexington that the British were marching towards them from Boston, sparking a chain of events that would lead the naming of a bunch of restaurants, the great American patriot was also a silversmith and copperplate engraver.  He put these skills to good use in the service of the Revolution, engraving and printing currency for the Massachusetts Provincial Congress and in a series of striking prints.  Perhaps his most famous image can be seen above, a dramatic reconstruction of the Boston Massacre: read all about it on our online feature.
There are a number of other Revere prints in the collections.  They can be located by a search of [Paul Revere] in the English Short Title Catalogue, and then by limiting the results to the British Library.  There are a number of bibliographies, studies and biographies.  I can do no better than refer the interested reader in the listing produced by the American Antiquarian Society.
And there's more about the Old North Church and its lanterns here.
[MJS]