Mounties, Music, Hockey: Canada Day in Trafalgar Square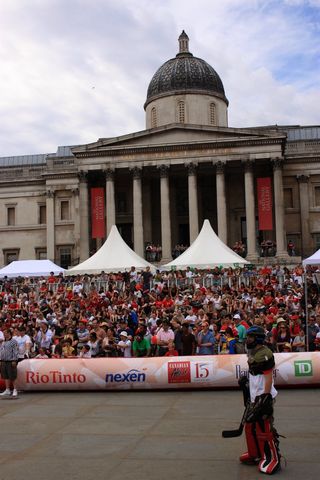 Canada Day 2010, Trafalgar Square
1 July is here again, which means it's time to wish Canada happy birthday. I wrote last year about the significance of the day and what the Library's collections can tell us about it, so I won't go over that again today.  What I will do is let you know how you can go and experience a little bit of Canada in London during the course of the day.
As ever the heart of things will be Trafalgar Square which will be covered in a celebration of Canadian culture. For interest, the relationship between Canada and the Square is a long one, with the High Commission being based at Canada House since 1923 and various other Canadian institutions calling it home at one point or another.  If you make it down there you will find an entertaining mix of live music, hockey and Mounties, as well as a number of opportunities to learn about living, studying and working in Canada. For those interested, there is more information here.  
This year the opportunity to learn about Canadian culture in the round extends beyond Canada day, as the London-Québec Culture Festival is running until 21 July. The Quebec festival will be part of the Trafalgar Square celebrations too, so if you are interested it's a convenient place to start. To be honest, it's a good time to find out more about Canadian culture in general, what with the great online presence of many Canadian cultural institutions (such as the NFB), events like Canadian Bookshelf and even the Royal Tour happening.
Given that there's so much going on I've resolved to get more involved in all things 'CanLit' myself this year (quite an undertaking as I'm usually buried in a history book rather than the latest fiction), but more on that another time. For now, see if you can find your way to Trafalgar Square today or even just curl up at home, put Scott Pilgrim on and wish Canada 'many happy returns'.
[PJH]