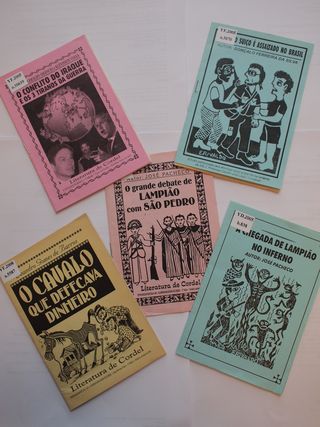 The American Folklife Center at the Library of Congress is currently sponsoring a two day symposium on the Brazilian popular literature known as 'cordel.'
I was pleased to be able to contribute some bibliographic citations and information to a project that has resulted in an impressive and interesting resource for researchers of Brazilian cordel literature and Brazilian popular culture.
Cordel literature began circulating in the Northeastern states of Bahia, Ceará, and Pernambuco in the late 19th century. Often written as a poem, the subject of cordel literature can range from the fantastical to religious to topical. Cordel books tell their stories through words and wood cut prints. Many cordelistas gained fame as poets, others were the only source of news from afar. Cordeis were crucial to the spread of news about the Brazilian government's war on the community of Canudos in the late 19th century, as well as the adventures of the famous 'cangaço' bandit of the northeast, Lampiao.
At once traditional and innovative – as most popular art is – the cordel is thriving again in contemporary Brazil. And this new energy and attention on the cordel may inspire a researcher to take a look at what is perhaps a lesser known area of our Latin American collections here at the BL. Cordel 'classics' such as 'A chegada de Lampiao no inferno' (The arrival of Lampiao in hell) as well as Brazilian 'chapbooks' are just waiting to be perused by an eager reader!
[E.N.C.]