14 December 2011
Canada walks away from Kyoto: another Official Publications post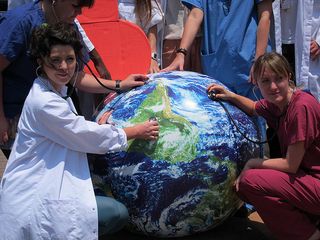 Publicity photograph from Durban 2011, courtesy of 'UNclimatechange'
Canada's intention to withdraw from the Kyoto Protocol has been a badly kept secret for some time, as the BBC have pointed out. However, questions as to why and what the impact will be still arise; institutions such as the British Library and electronic repositories of official publications can provide a wealth of useful material to furnish answers.
There are several online repositories that offer useful resources on the Protocol in particular and on the nature and impact of climate change more widely. Much of this information can be found via the UN Climate Change Portal, which provides useful statistical overviews and links to more detailed reports and numbers from other branches of the United Nations. Information can also be found on UN Data, such as this Greenhouse Gas Inventory Data chart which illustrates output from 41 countries between 1990 and 2008.
The UN also makes available a wide range of materials from the recent Durban Climate Change Conference, these can be found here and provide a large amount of data on a complex and still evolving political event. Canada's withdrawal came subsequent to the Environment Minister, Peter Kent, attending the Durban conference and confirming that the protocol, 'does not represent the way forward for Canada'. Canada's significance as a carbon dioxide emitter is summed up by this graph, perhaps most importantly it also shows how much an economy dominated by oil exports also contributes in relative terms.
The Alberta Oil Sands (which have been on this blog before) have been suggested as a reason for Canada's withdrawal from the Kyoto Protocol despite not being mentioned directly by the government. This is perhaps appropriate as such decisions rarely come down to a single issue, instead being the result of a complex assortment of social, economic and political pressures. As such, it may be worthwhile also paying attention to Canada's overall status as a pollutor, projected trade interests, demographic pressures and domestic energy needs, all of which could cause Canada trouble in adhering to the conditions set by the protocol and its potential successor.
The British Library holds a significant amount of material relating to climate change and the Kyoto Protocol produced in various countries and from myriad research backgrounds. In particular the Science, Technology and Medicine collections contain English language journals and academic monographs from around the world. There are also publications relating specifically to Canada, including Rodney White, 'Climate Change in Canada' (2010: YK.2011.a.16488) or the previous government's 'Moving Forward on Climate Change: a plan for honouring our Kyoto agreement' (2005, shelfmark: OPF.2006.x.35).
[PJH and JJ]
Other British Library blogs