Civil War Project Update: from rifles to TIFF files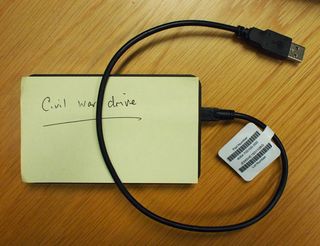 I can recall seeing adverts for 'Winchester' drives in the 1980s, at a time when the humble tape-recorder provided the common means of saving computer data.  According to Wikipedia, in 1973 IBM had introduced their 3340 Drive, offering commercially for the first time many of the technologies that became standard for future drives (e.g., 'low mass and low load head with lubricated platters').  The drive was designed around two 30 megabyte spindles, causing the project lead, Ken Haughton, to name the machine 'Winchester' after the famous (or, given its violent purpose, infamous) Winchester 30-30 rifle - a gun designed in 1894 by the same firm that manufactured the Henry Rifle during the Civil War: 'that damned Yankee rifle that they load on Sunday and shoot all week!' (also used by the Confederate President Davies' personal security guards).
More peacefully - and more prosaically - the portable hard drive shown above is now being used to ferry giant TIFF files from the Library's scanning studio to my computer, where I am starting to relabel them with the relevant shelfmark and folio (using something called Ant Renamer), and send them on their way to www.bl.uk/manuscripts, making sure that the match up to their catalogue entries and are transformed into 'DeepZoom' .dzi files.
[MJS]