19 January 2012
Kodak: framing the last 120 years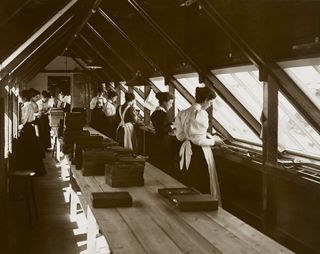 'Kodak factory at Harrow, 1890s'. Photographer unknown. British Library Kodak Archive A.1787
The news that Kodak is formally filing for bankruptcy protection has been coming for some time but it still represents a significant moment in the history of photography. Ever since George Eastman marketed his company's first camera in 1888 Kodak has framed the personal, family, social and political histories not just of the Americas but of a significant portion of the world.
As such, I decided to dig around and see the mark Kodak has left on the British Library's collections. In short, it's a big one. Some of the earliest materials we hold relating to Kodak were published by the company itself, for example the Kodak Press publication, 'Picture Taking and Picture Making' (1898, Shelfmark: YA.1998.a.14770). This body of material is quite large and covers various subjects, from 'Motion Picture Laboratory Practice, and Characteristics of Eastman Motion Picture Films' (1936, Shelfmark: 778.1258 DSC) to the journal, 'Dental Radiography and Photography'.
Far larger is the body of material which owes a debt to Kodak equipment in its production, including a number of our photobooks, travelogues, newspapers, journals, and so on. Some early examples here include the Countess of Aberdeen's, 'Through Canada with a Kodak' (1893, Shelfmark: 10470.b.35) and Alfred Leader's, 'Through Jamaica with a Kodak' (1907, Shelfmark: 010470.e.5). Both also illustrate how quickly Kodak developed an intimate relationship with the international traveller and the travelogues many of them produced.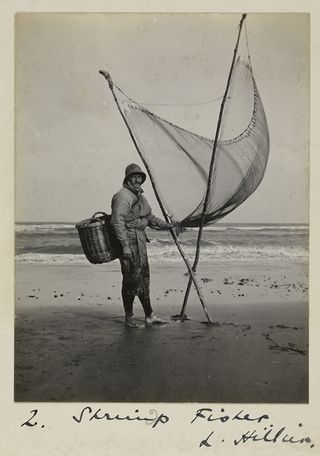 'Shrimp Fisher (September 1908)', entry for Eastman Plate Competition by L. Hillier. British Library Kodak Archive A.1997 
The Library's Kodak related collections do not end with published material, however. Two collections of particular note are, 'The Oral History of British Photography' and the 'Kodak Ltd. Archive'. Kodak receives multiple mentions in 'The Oral History of British Photography', often as a reminiscence but also because of the interviewing of people such as Robert Lassam (former curator of the Kodak Gallery). The Kodak Archive held here was donated in 2009 and is the corporate archive of Kodak's UK arm, providing access to photographs and documents which illustrate the development of photography in the UK as well as the company's history.
Kodak's global reach and legacy is borne out by how pervasive materials relating to or facilitated by the company are in the collections of the British Library and libraries across the world. This, therefore, is one of the many ways in which the significance of today can be impressed upon us.
[PJH]