26 January 2012
Picturing the Great Alone: photography and the Antarctic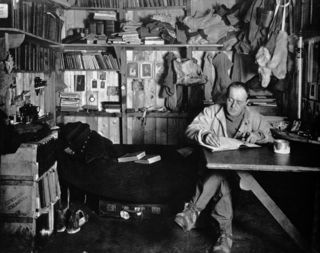 Robert Falcon Scott on the 'Terra Nova' expedition, by Herbert Ponting. Image from Wikipedia.
Last year was a busy one for Team Americas and one of the many things we managed to do was take on some responsibilities for materials relating to Antarctica, thus adding a whole extra continent to our domain. This being the case, when an opportunity to view 'The Heart of the Great Alone' at The Queen's Gallery came up a couple of us jumped at the chance.
'The Heart of the Great Alone' covers various early twentieth century expeditions to the Antarctic, including that of the 'Terra Nova' during which Scott and his team perished. The main exhibition focus is the photography of Frank Hurley, photographer for Shackleton's 'Endurance' expedition, and Herbert Ponting, who produced the official photographs for the 'Terra Nova' expedition. I could write a lot here about these photographers and the expedition but the best thing to do would be to recommend a visit the exhibition itself or the e-gallery.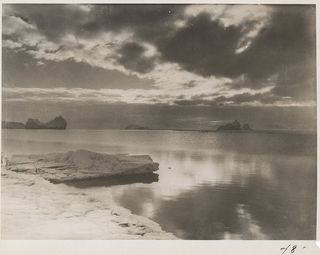 'Midnight in the Antarctic Summer', by Herbert Ponting. Image from Wikipedia.
However, as always with these trips, I had a mind to mull over the Library's materials relating to the Antarctic when I got back. The Library's collections from this area are not the largest in the world, with institutions such as the Scott Polar Research Institute and the Royal Geographical Society (to name a few) holding a wealth of material, but there is a noteworthy body of material which is well supported by the wider collection of Official Publications and Newspapers (especially in the case of an expedition such as the 'Terra Nova').
That said, there are some stand out items and a notable collection of miscellaneous materials held here. Captain Scott's diary is one of the Library's star collection items and the journal 'The South Polar Times' (shelfmark: Tab.444.d.6.) was the first publication printed on the Antarctic continent. Publications by Frank Hurley and Herbert Ponting also feature, including Ponting's 'The Great White South' (1921, shelfmark: 010460.g.1). These items contribute to a wealth of published material relating to the Antarctic and explorers such as Scott and Roald Amundsen.
As well as holding materials relating to the initial exploration of Antarctica, the Library has a significant collection regarding the continent in the later twentieth century; where scientific progress and international co-operation become the order of the day. Materials arising from events such as the Antarctic Treaty or organisations such as the British Antarctic Survey, as well as many academic texts and articles regarding the continent, are insightful on their own but also suggest an evolving relationship between global society and the frozen continent.
[PJH]