15 February 2012
Guest Post: a side of Australasian studies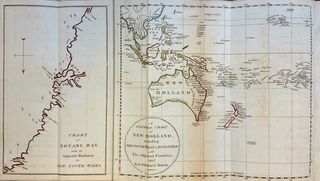 'A General Chart of New Holland, including New South Wales & Botany Bay', in 'An Historical Narrative of the Discovery of New Holland and New South Wales'
As I mentioned in a previous post on the Terra Nova expedition, 2011 was a busy year for the Americas section of the Library and one of the other developments was being joined by our colleague responsible for Australasian Studies. Unfortunately, Nicholas has now left the Library to enjoy the warmer climes of southern France and so the rest of us from Americas Studies are doing our best to direct readers interested in researching the area for the time being. This being the case, we thought we'd start the best way we know how - blogging.
The Library has a notable collection of materials relating to Australia, New Zealand and the Pacific Islands and we aim to show a selection of the historical works we have as 'guest posts' on the Americas blog. For today's post I happened to be looking at the voyage of Captain Cook to the west coast of Canada and thought the Australian materials included in the same volumes would make a good first Australasian post.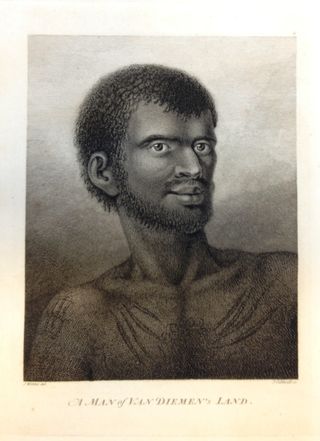 'A Man of Van Diemen's Land', contained in the supplementary plates to 'A Voyage to the Pacific Ocean'
Edited by John Douglas, 'A Voyage to the Pacific Ocean' (shelfmark: 10025.bbb.22) has a supplementary volume of plates and charts compiled during the journey, held at shelfmark, C.180.h.11. These charts and plates cover various parts of Cook's expedition and therefore range from Australia to Nootka Sound and illustrate the landscape, fauna and peoples encountered. The above, 'A Man from Van Diemen's Land' is an example of the illustrations included in the volume which charts the diversity of societies and environments encountered.
The Library's collections contain many materials relating to Cook's voyages, including books, maps and manuscripts. Another item I called up was the 1786 publication, 'An Historical Narrative of the Discovery of New Holland and New South Wales' (shelfmark: 1446.c.19). The piece is a much smaller, highly edited account of Cook's expedition which happens to contain the rather nice map seen at the top of this post. Given the amount of material the Library holds relating to Cook's expeditions it is tempting to keep posting highlights from the myriad publications and manuscripts in coming weeks, but rest assured a host of notable collection items on various subjects will be on display in subsequent guest posts.
[PJH]