19 March 2012
Published in Paris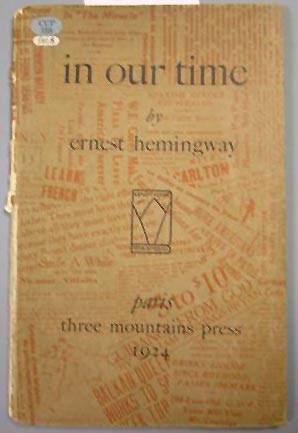 We're dusting off the Delorean again. Following on from Naomi's post on Martha Gellhorn and her research on Hemingway's wives, we thought we'd revive a (slightly tweaked) post on publishing in Paris
and Hemingway's first collection of short stories.
Having worked with our Americas collections for some time now, I like to think that I know where their strengths and weaknesses lie. The internet has made it much easier to fill gaps than in the past, in the days when we had to compile lists of desiderata without too much hope of ever finding a wanted title. And the amount of material now available digitally has obviously also impacted on whether or not we decide to buy a print version of a missing title. But over the years, I've been struck by just how good some of the curators of previous generations were at spotting items and getting them in to the collections.
A case in point is the writing of American authors in Paris in the twenties and thirties, that golden era of literary publishing when many of the giant figures of both British and American literature first got their work into print. These were often the 'difficult' books that had been rejected by more established publishers. The little Paris private presses were not only prescient in their championing of relatively unknown authors, but their owners often risked censorship and prosecution. The Library's holdings from this period are excellent, the curators of the time being equally prescient in their selection. So, if you want to immerse yourself in the output of presses such as the Contact Publishing Company (e.g. Mina Loy's Lunar Baedecker, 1923), Three Mountains (e.g. William Carlos Williams's Great American Novel, 1923), Obelisk (Henry Miller's Black Spring, 1936), Black Sun, and a host of others, the BL is the place to come.
The rather sad looking copy of Ernest Hemingway's In Our Time, shown at the top of the blog, was published by Three Mountains in 1924, in a limited edition of only 170 copies (you may have seen it in our exhibition Breaking the Rules: the printed face of the European Avant Garde 1900-1937). It contains a collection of 18 short untitled chapters (6 of which had appeared in The Little Review). I don't think you could really call Hemingway avant-garde (discuss) but William Bird, the Three Mountains proprietor, decided that a Dada-esque cover was required. The collage included a map and newspaper articles, in both English and French, pasted together, and is meant to reflect both the journalistic prose of the work and the chaos of the First World War and its aftermath, an underlying theme of the collection. And incidently, a copy of In our Time came up for sale a couple of years ago with a price that would make your eyes water.
Hemingway, along with Gertrude Stein, William Carlos Williams, Fitzgerald and Pound, not to mention James Joyce et al, were frequent visitors to Sylvia Beach's little bookshop Shakespeare and Company, which first opened its doors in 1919. It was Beach, of course, who first published Joyce's Ulysses in 1922, and The Letters of Sylvia Beach, edited by Keri Walsh and published by Columbia University Press a year or so ago can be found in the BL.
For those of you who are particularly interested in the presses mentioned, I would recommend Hugh Ford's Published in Paris: American and British Writers, Printers, and Publishers in Paris, 1920-1939, published in 1975, but still indispensable (BL shelfmark: x981/10131).
And finally, you might want to check out Dorian's web feature on American Literature in Europe, which has a little section on the Lost Generation.
[C.H.]