20 March 2012
¡Que Viva La Constitución de Cádiz!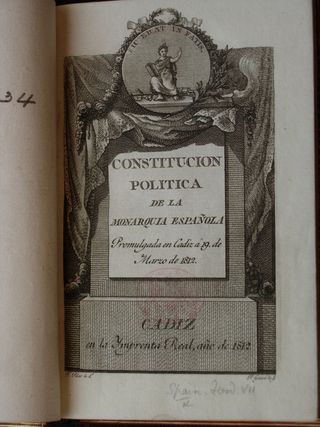 BL Shelfmark: 8042.a.34
Yesterday – March 19th – marked the bicentenary of the Spanish Constitution of 1812, also known as the Constitution of Cádiz. Here at the BL we have one of the original 1812 Cádiz imprints of the Constitution. It is considered a classic liberal document – ensuring universal manhood suffrage, national sovereignty, freedom of the press and free trade. One of the more interesting aspects of the drafting of the constitution was the debate that ensued regarding the relationship between the rights guaranteed in the 1812 constitution and the people of Spain's colonies. The elite representatives from the Spanish colonies - known as criollos - pushed for greater representation and authority including limited suffrage for indigenous peoples and free people of African-descent. Some have argued that this was an attempt on the part of the criollos to secure their own political power vis-à-vis Spain without creating new republics – and new citizens. On the other hand, by partially accommodating the criollo representatives many peninsular representatives hoped they could thwart the ongoing movements for independence and the abolition of slavery. The historical momentum for independence was, however, too strong and the implementation of the constitution in the Americas laid fertile ground for the emergence of the Latin American republics. To this day the Constitution of Cádiz remains a key document in the history of Latin America.
For those of you interested in thinking more about constitutions and politics in the Americas you can check out Prof. Linda Colley's lecture tomorrow: "Liberties and Empires: writing constitutions in the Atlantic World, 1776-1848.
[ENC]