07 March 2012
The Arctic Regions: William Bradford's ambitious book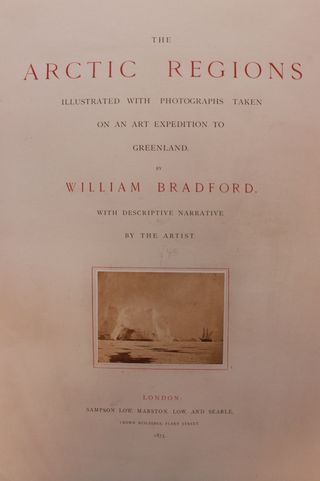 Front cover from William Bradford's, 'The Arctic Regions'. Shelfmark: 1785.d.7 (restricted item)
Here at Team Americas and Australasian Studies we've been poring over a few acquisition catalogues recently, not to buy anything but to see what is happening on the antiquarian book market. During this process some items that we already hold jump out and make you think, 'I'd like to have a look at that'.
One such item can be seen above, William Bradford's publication, 'The Arctic Regions'. I was intrigued as I had not heard of the work before, so I thought I'd have a look at what makes it so special. Bradford was an artist who assembled an expedition to Greenland in order to photograph the area (although he actually used two Boston photographers, George Crichterson and John L. Dunmore) and produce a photographically illustrated book upon their return.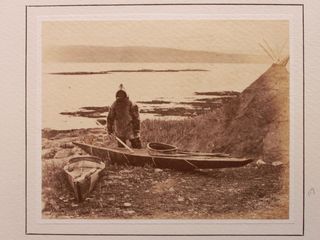 Mounted internal photograph from, 'The Arctic Regions'
Bradford's publication idea was novel for the time and the end product is still stunning, the volume is very large and contains over 100 mounted photographs of various scenes from Arctic Greenland and North America. The depiction of the Arctic presented is romantic in tone and sometimes patronising to the people who were photographed (there is at least one disparaging comment regarding the appearance of local Inuit) but it is a notable early photographic view of the Arctic regions.
Unfortunately, due to the size of the item and the delicate nature of the mounted photographs the item is on the Library's restricted list and not easy to view. However, if you would like to know more and see more of the book's contents there are a couple of useful galleries online. There is a short selection on this wider gallery on the North West Passage while this gallery from the Sterling and Francine Clark Art Institute provides a more detailed look and context.
[PJH]