From the collections: twelve (very similar) views of Jamaica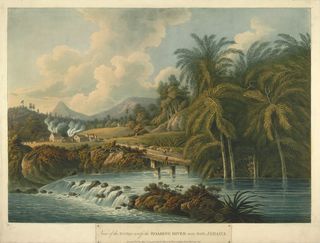 Louis Belanger (1800), 'View of the Bridge Across the Roaring River near Bath, Jamaica'
Last week Team Americas had to do a little bit of digging to find out more about the French landscape artist Louis Belanger and six views of the Caribbean he painted. Cutting to the chase, and after several hours of source searching and collection digging, Belanger's Caribbean views seemed incongruous to his wider body of work. He was employed as a painter in Europe and during the course of his life worked for various members of the British and Swedish establishment, producing many views of the European landscape. However, no existing sources mention Belanger being commissioned to travel to the Caribbean.
It seemed, therefore, that the process through which the views were created would remain unclear to us; until Beth found a reference to Belanger's work in a article from 1936 in The Saturday Review of Politics, Literature, Science and Art, entitled, 'Early Prints of Jamaica' (26th December 1936, pp. 826-27) which provides a short art-history of the depiction of the Jamaican landscape. Within the main argument the following jumps out:
"L. Belanger made six drawings of Jamaica, evidently copies from those of George Robertson. They were acquatinted by J. Merigot and published in 1800. These views are signed, 'Louis Belanger, le Romain'. The untropical nature of his colour leads one to believe he never visited Jamaica."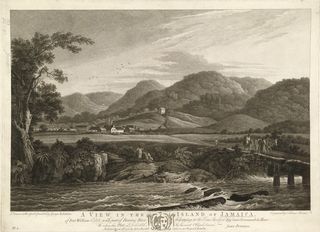 George Robertson (1778), 'A View in the Island of Jamaica, of Fort William Estate, With Part of the Roaring River Belonging to William Beckford Esq., Near Savannah La Marr'
The two pieces shown here are from the Library's 'Caribbean Views' gallery and they illustrate the author's point. Unfortunately, for the most striking examples, 'View of the Bridge Across Cabaritta River' and 'View of the Bridge Across Rio Cobre', the Robertson views are not available online but a comparison of the physical copies suggests a strong affinity between the two sets of work. Indeed if you look at the Library's copies of Belanger and Robertson's works, it does seem that Belanger's versions are exaggerated and romanticised reproductions of Robertson's landscapes. All six views by both artists are part of the King's Topographical Collection; Belanger, Maps K. Top. 123.55; Robertson, Maps K. Top. 123.54.
Interestingly these two sets of work have been sharing a volume in the King's Topographical Collection for some time, separated by just a few sheets of intervening material; funny to think their history could be as intimate as their place in the collections.
[ENC & PJH]