17 April 2012
Sheila Rowbotham, Writer in Residence: From Whitman to The Wire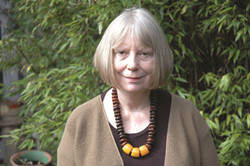 Prof. Rowbotham
Sheila Rowbotham is one of the two Eccles Centre Writers in Residence at the British Library for 2012.  Professor Rowbotham has written widely on women's history and is working on her next book, Rebel Crossings: New Women, Free Lovers and Radicals in the US and Britain 1880 to 1910, which will trace a small network of British and American radicals during the turn of the century.  Together with the other Writer in Residence, Naomi Wood, she will be posting to the Team Americas blog during her stay.
Four decades ago I discovered a book in the  Reader's Room of the British  Museum, as it was then, edited by an American anarchist and Whitman enthusiast, Helen Tufts, in memory of her English  friend from Bristol, Helena Born. It was called Helena Born: Whitman's Ideal Democracy and printed in Boston in 1902. Helen Tufts had only 500 copies done. Her friend was not a celebrity, but she was determined that a memory would live on.
I was researching the British socialist campaigner for homosexual rights, Edward Carpenter, and was intrigued by the account of how Helena Born bees-waxed her  home in  9 Louisa  Street, St Phillips, a poor working class area where she had chosen to live when Carpenter visited early in 1890. She was trying to live simply, absorbed in a great surge of union militancy in the city which brought women cotton  workers out on strike.
Later that year Born migrated to Boston with her friend Miriam Daniell, along with Daniell's lover Robert Allan Nicol . Their baby, 'Sunrise' was born out of wedlock in the US and they became involved in a circle of Individualist anarchists around the journal Liberty.
I could not imagine back in the 1970s that so many years on I would still be pursuing them as an Eccles Centre/British Library  Writer in Residence and writing a book about them called  Rebel Crossings for Verso Books.
I kept coming across small pieces of information about Helena Born, Miriam Daniell and other new women who joined the socialist movement in Bristol in the late 1880s and 90s.
They would re-enter my life through Carpenter again when I began writing a biography of him.  But even when Edward Carpenter: A Life of Liberty and Love was published I had no plan to write about the Bristol rebels who migrated to the States.
I was pulled in gradually, intrigued by the growing files I was accumulating on them and encouraged by the enthusiasm and help of friends in both countries. The drama of their lives fascinated me, so did the 'crossings' between countries, political boundaries, social classes and conventions.  Ideas as well as people migrated, travelling by word of mouth, letters, journals, books.
Since I became  a Writer in Residence this January I have been discovering the extent of the British Library's North American holdings which the Eccles Centre for American Studies aims to promote.  These are vast. Along with newspapers and periodicals there are collections on women, immigration, Anti-Slavery, the West... the list could go on and on.
At first I roamed through catalogues, eventually settling down to explore the broader context of Boston in the late nineteenth and early twentieth centuries.
Jean Petrovic's Selective Guide to Materials at the British Library, 'The American City in the Twentieth Century' proved invaluable. See http://www.bl.uk/eccles/americancity.html.
I have embarked on the geography, social composition, architecture, race relations, politics and culture of the city my rebels migrated into through reading books and Boston newspapers online.
When not travelling in my head to Boston, I have been checking into Baltimore. Belatedly through my son I have become a fan of 'The Wire'. I resisted when everyone else was watching it. No, I wasn't interested in cops and robbers stories. I struggled with the plots and difficult sentence construction at first but then was hooked. These police in 'The Wire' are just like historians after all slowly piecing together all those bits of information. Oh for a Wire on nineteenth century Bostons anarchists, socialists, new women and Whitmanites!
[SR]