27 April 2012
Sports Day at the British Library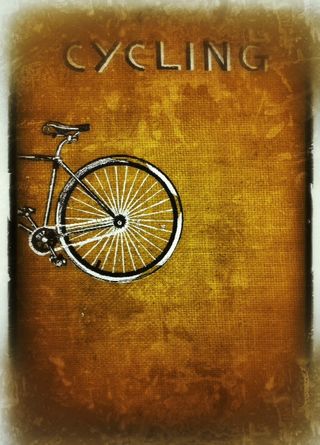 Luther H. Porter, Cycling for Health and Leisure, New York, 1895, cover
On 21 May 2012, The Library is hosting a Sports Studies Day (and, no, we won't be wearing just our pants and vests and holding eggs and spoons).  It's titled 'Sourcing Sport: Current Research; British Library Resources',and I've been starting to do some work in advance of the section on the right hand side of that semi-colon.
Rather than cover all of U.S. related sports, from basketball to Ultimate Frisbee (we have an ex-Royal Holloway Blue on Team Americas for the latter, btw), I've opted for what I thought would be a little more focused: bicycling.
I was mistaken, since that sport has generated a vast literature and, of course, dates back to the second half of the nineteenth century.  It also encompases a great range of disciplines, from multi-day track racing at the heart of Madison Square Gardens, the monuments of the Spring Classics and the Grand Tours to modern-day mountain biking and BMX.  And this is putting aside the history of leisure, class, and gender, all of which have been influenced by that world-changing two-wheeled invention.  This will all be boiled down to a short overview, with some pictures, too.
But since the London Tweed Run is not so very long away, I was particularly struck by this collection of wool fabric samples contained in a pamhlet of uniform regulations produced by the Cyclists' Touring Club in 1888 (recently renamed from the bicyclists' touring club because of the growth in popularity of tricycles).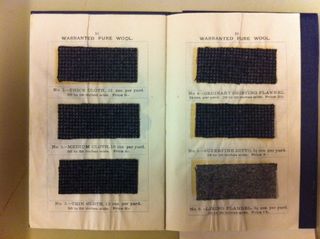 Cyclists' Touring Club, Uniform rules & regulations, London, 1888.  Wool samples.
These could be run up into some rather natty outfits: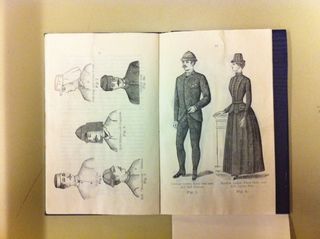 The American author, Luther H. Porter (whose book on the health benefits of cycling's cover has been meddled with at the top of this post) also offered advice on clothing, particularly on the liberating bloomers and other 'rational' female costumes.  Men were also advised: 'Stockings of dark gray or some plaid look best in the long run; black ones are more dressy, but show dust badly'.  Sadly, rain rather than dust is our current environmental enemy of sartorial success.  Bloomers below: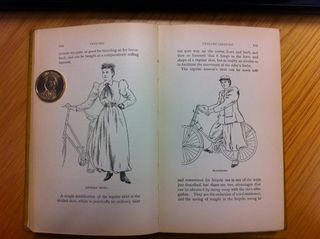 You can find out more about the consequences for life in America (and elsewhere) of such clothing in Sarah A. Gordon, 'Any Desired Length': Negotiating Gender Through Sports Clothing, 1870-1925', in P. Scranton, ed., Beauty and Business: Commerce, Gender, and Culture in Modern America, New York & London, 2001, as well as on the Annie Londonderry website (She's also graced the Team Americas blog).  Younger readers may also appreciate Shana Corey, You Forgot Your Skirt, Amelia Bloomer!, New York, 2000.
Expect all this, and more, on the 21st.  Including the Wheelmen's Patrol songbook cover: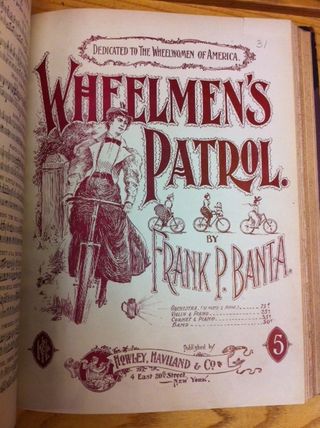 And possibly cheerleaders.
Here's the blurb from the Library's What's On page (more also on the Sport and Society pages, which are also charting the summer Olympics):
If you are a sports researcher, a historian or simply interested in sport and its background join British Library curators and academic experts as they unlock the secrets of the Library's sports collections and showcase their explorations into the world of sports research.  
Participants will be given the opportunity to discover a wide range of sports resources: from sound files, ephemera, images and historical materials to publications from other countries including Russia and the USA.  
Speakers include Professor John Horne, Professor Andrew Sparks, Professor Matthew Taylor and Professor Kath Woodward.
It should be enlightening, fun; and the £10 registration charge includes Peyton & Byrne sandwich lunch and refreshments (and, for the cyclists, possibly a cakestop).
[MS]