They were happy, these Americans, to be in Paris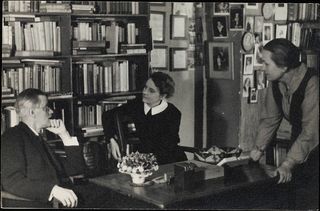 James Joyce with Sylvia Beach at Shakespeare & Co, Paris, 1920, Image Yale University, via Wiki Commons
This week I've been researching Hemingway's life during the Second World War and I've come across two treasures in the British Library: Sylvia Beach's memoirs, and the catalogue to a 1959 Paris exhibition of Beach's collections. 
Hemingway and Sylvia Beach were firm and fast friends. This was unusual enough in two ways: first, that he didn't sleep with her, and second, that their friendship continued uninterrupted until his death. In her memoir, called Shakespeare and Company, Sylvia writes, 'I felt the warmest friendship for Ernest Hemingway from the day we met'.
Sylvia had managed to keep her famous bookshop open during the Paris occupation until one day in 1941 when a German officer demanded her last copy of Joyce's Finnegans Wake.  Sylvia did see the funny side of the fascist's interest in this decadent book, but she told the officer it was not for sale.  She was keeping it. For whom? asked the officer. 'For myself,' she said. Peeved, the officer advised her he would be back in two hours to close down the shop.
In those two hours Sylvia Beach completely emptied out her bookshop. Using boxes and baskets, she transported 5000 books, letters and all of the shop fittings up three flights of stairs. When the German officer returned a couple of hours later, even the shop sign had been painted over. Everything had gone. The books 'remained hidden, a secret until after the liberation.'
Three years later, in 1944, Hemingway returned to Paris as the city welcomed its liberators. Sylvia remembers, 'We asked [Hemingway] if he could do something about the Nazi snipers on the roof tops in our street… He got his company out of the jeeps and took them up to the roof. We heard firing for the last time in the rue de l'Odéon. Hemingway and his men came down again and rode off in their jeeps – "to liberate" according to Hemingway, "the cellar at the Ritz."'
Countless photographs and souvenirs were saved from the war up these three flights of stairs.  A sample of these were shown at an exhibition in Paris in 1959: Les Années Vingt: Les Ecrivains Américains A Paris et Leurs Amis – the catalogue of which is available at the British Library. As well as wonderful photographs of Sylvia's coterie, including T.S. Eliot, Djuna Barnes and William Carlos Williams, we also get another view on the Lost Generation Sylvia fostered in Paris.
'Ils étaient heureux, ces Américains, d'être à Paris,' Sylvia writes in the preface to the catalogue – 'They were happy, these Americans, to be in Paris.' She continues, 'I do not understand why we still call them the "Lost Generation". It seems to me that after thirty years, that this generation of authors were the most recognized.'
Whether it is Gertrude and Alice sitting morosely under a Picasso, Joyce discussing Ulysses with his editors, or the original letter of introduction that shepherded an unknown couple called Mr and Mrs Hemingway from Chicago to Paris in 1921, the catalogue illuminates the woman and her world in les années vingts.
For me, Sylvia Beach carries extra interest because it is highly likely she met all four Mrs Hemingways, and because she was the only woman – and only friend – with whom Ernest had no serious bust-ups. It seems she knew how to temper some of Ernest's more bullish moods, and that she understood the quick of him. As she so smartly put it: 'the first trouble is he wants to marry everybody.' 
Not only is Sylvia an interesting character who doesn't globe-hop too much, she also provides me with a character who, through virtue of her own, has stayed in everybody's good books. One of the hurdles I've had in writing about this era for my novel, Mrs Hemingway, is that spats ruin friendships every decade or so; that, or people die. Moving the chapters on with the same cast of people has proved difficult. And so constant Sylvia has proved a bit of a hidden treasure herself. 
[NW] 
Naomi Wood is one of the British Library's Eccles Centre Writers in Residence for 2012.