24 May 2012
Exploring Nouvelle-France: the voyages of Samuel de Champlain
A small chart of Nouvelle-France, printed in; 'Les Voyages du Sieur de Champlain' (1613) [BL Shelfmark: C.32.h.9]
One of the perks of curating is occasionally having the time to put on displays of materials for visitors to the Library. Ahead of yesterday's Eccle's Lecture on Quebec, travel and the Jardins de Métis, I had one such opportunity and it would be a shame not to share some of the items displayed more widely. The selection looked at materials in the Library which relate to exploration and travel in Quebec from 1545 - 1900.
The Library holds a number of important works relating to the early history of Quebec, the most significant of which is Jacques Cartier's Brief recit & succincte narration de la navigation faicte es ysles de Canada [BL Shelfmark: G.7082]. Published in Paris in 1545, this rare work recounts the earliest exploration of North America. It also inspired the endeavours and accounts of Samuel de Champlain, the man who would later be known as the 'father' of New France.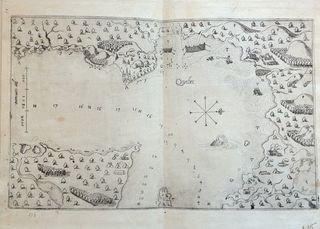 Chart of Quebec's location, with notes on geographical surrounds and neighbouring settlements. Printed in; 'Les Voyages du Sieur de Champlain'  (1613) [BL Shelfmark: C.32.h.9]
Of particular interest for this post, not least because of its incredible level of illustration, is de Champlain's Les Voyages du Sieur de Champlain, a two volume work published in Paris in 1613 and 1632 [BL Shelfmark: C.32.h.9]. The work provides details on the geography of New France, the indigenous cultures encountered, as well as the economic possibilities and hazards to be found. All of this is recounted in great detail, both in text and maps. The work also includes detailed illustrations of Algonquin and Huron groups friendly to the French colonial project.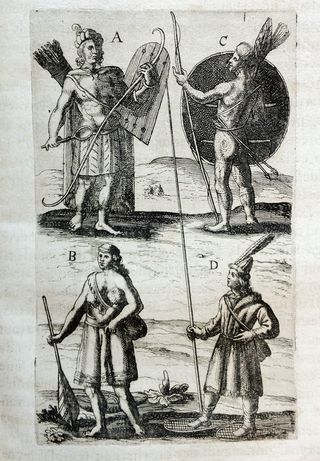 Illustration of Algonquin dress, printed in; 'Les Voyages du Sieur de Champlain' (1632) [BL Shelfmark: C.32.h.9]
In many ways Cartier and de Champlain's texts can be seen as beginning a significant vein of publishing regarding exploration and travel in Quebec, one which would be well developed in the centuries to come. Other notable early texts in the Library's collection include, to name a very few: Francois Du Creux's Historiae Canadensis [1664, BL Shelfmark: C.125.de.2], which is an illustrated translation into Latin of Paul Le Jeune's Brieve relation du voyage de la Nouvelle France [1632, BL Shelfmark: 867.c.1] and Lewis Hennepin's A New Discovery of a Vast Country in America… between New France and New Mexico [1699, BL Shelfmark: 979.l.23.].

[PJH]