07 June 2012
Framing Canada: the work of William Notman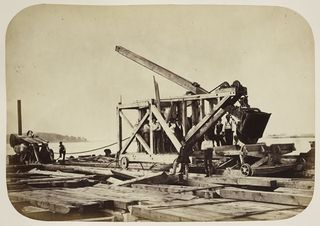 'Construction of the Victoria Bridge, Montreal: dredging machine', William Notman, 1858 [Shelmark: C.161.g.2]. Displayed as part of the British Library's Points of View exhibition.
Keeping my recent Quebec run going, I'm going to jump a few centuries ahead from Samuel de Champlain's work and into the realm of nineteenth century photographers; in particular, Montreal's William Notman. Notman has been cropping up quite a bit in my work recently, I used some of his photographs in the display mentioned in my last post and CBC Radio have recently posted a very good documentary about his work on their website.
Notman, for want of a better way of describing him, was one of those canny individuals with an excess of talent and a knack for being in the right place at the right time (overlooking his suspected bankruptcy in Scotland, a possible reason he settled in Montreal). His photographs were of a very high quality and his savvy for branding and promotion allowed him to develop an international reputation for himself. An example of this is his decision to create an ornate Maple box of stereoviews which was presented to the Royal Family at the opening of the Victoria Bridge, an action which would eventually allow him to call himself 'photographer to the Queen'.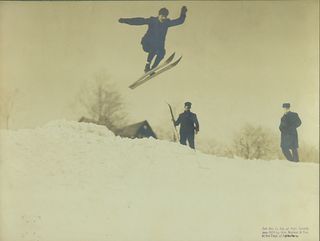 'Ski Jump, Montreal', copyrighted by William Notman and Son, 1905. Part of the Library's Canadian Colonial Copyright Photographs collection [Shelfmark: HS.85/10]
The technical skill and photographic flair of Notman led to him creating some of Canada's iconic photographic images, such as 'Caribou Hunting, the Chance Shot' which is held in the Notman collection of the McCord Museum. Indeed, Notman's skill and reputation was such that by the 1860s he was known as Canada's great portrait photographer and a fixture on the British colonial traveller's list. By the time of his death in 1891 the reputation of the Notman brand was such that his descendants could maintain a successful photographic business using the family name.
The British Library has a surprising collection of Notman related photography, largely as a result his work being used to illustrate books or his successors depositing 'William Notman and Son' work for copyright deposit. As a brief illustration, 'Portraits of British Americans' is a three volume work containing many Notman photographic portraits [Shelfmark: 010803.f.1], while 'The Canadian Handbook and Tourist's Guide' by H. B. Small is illustrated by some striking Notman landscapes [Shelfmark: 10470.e.31]. Finally, the Library also holds copyright deposit photographs from William Notman and Son, with the volumes of 'Notman's Photographic Selections of Canada' containing photographs from Quebec, British Columbia and the rest of Canada [Shelfmark: Maps 8.bb.1]
[PJH]