29 June 2012
Notes on the Beginning of a Rivalry: England vs Australia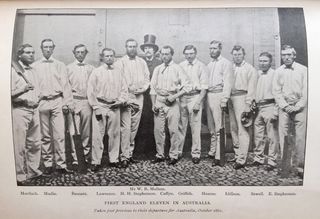 First England Eleven in Australia, from 'Seventy-One Not Out' [Shelfmark: 07905.g.30]
Ok, we'll come clean. Team Americas is actually Team Americas AND Australasia but there aren't enough of us to keep a regular blog going on Australasian topics. Since Dr Phil is now having to cover the area due to Nicholas's departure to pastures new (literally - he's gone off to farm in France!), he's sneaking in this post on one of his favourite subjects. And if you're interested in things Australasian, we do have a Twitter account @BL_Australasia.
Given today is the beginning of Australia's One Day International Series in England it seems appropriate to interrupt the blog's usual service for some notes on Australia and England's cricket heritage.
The focus here is very much on beginnings as the Library holds works relating to both the first England tour of Australia and vice versa. The first England touring eleven to visit Australia did so in 1861-62 and their matches are recounted later, in 1899, by William Caffyn in 'Seventy-One Not Out' [Shelfmark: 07905.g.30]. This wasn't quite the England tours we are used to seeing; the team was gathered by a commercial sponsor (Messrs Spiers and Pond), the team itself was not exactly 'all-England' (most of the North declined to tour) and they played Australia teams of eighteen and twenty-two players.
The tour was a success as it drew large, enthusiastic crowds to every game and it proved that subsequent tours would both be of enjoyable quality and financially viable. Caffyn seems pleased with the quality of the matches but devotes an awful lot of his narrative to the activities of Australia's mosquitoes – it would seem they plagued him more than the opposing bowlers. Subsequent England tours to Australia would follow, although the fractious relationship which has defined this rivalry was soon to develop.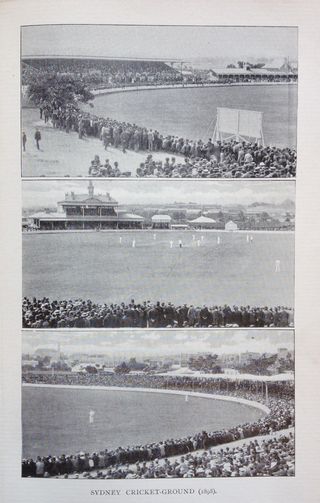 Sydney Cricket Ground, 1898, from 'Seventy-One Not Out' [Shelfmark: 07905.g.30]
Australian teams would soon be visiting England too, although the first tour (that of the Australian Aboriginal Cricket Team) is only recorded in Library holdings such as Wisden (Shelfmark: RH.9.X.1553) and the cricket-minded newspapers. The 1878 tour of England, which was captained by D. W. Gregory and also played in the United States during these travels (and is thus the best link to this blog's usual content I could make) has marginally better representation, including a lengthy discussion of the impending tour in the Melbourne-published Conway's Australian Cricketers' Annual [Shelfmark: P.P.2638.fa].
Of course, the 1878 tour saw a strong Australian team begin to build the reputation and legacy which stands today. While this post merely charts some beginnings the Library's collections of cricket publications, newspapers and other materials tell the history of what was to come; Ashes, Dons, Bodylines and all.
[PJH]