15 June 2012
The World of Jorge Amado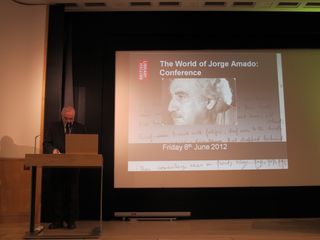 Roberto DaMatta. Photograph by Ronaldo Pelli
Last Friday the British Library hosted an international conference in honour of the Brazilian writer Jorge Amado. The event was a unique gathering of historians, novelists, film makers, anthropologists, diplomats, curators, students, and journalists from all over the world – a crowd that only an author such as Amado could inspire.
Considered the pre-eminent Bahian writer, Amado has had his novels translated into more than 40 languages. Friday's conference was a rare opportunity to analyse the at once local and universal themes of Amado's stories.
Over the course of the day topics discussed in relation to Amado's novels ranged from immigration and the European Community, feminism and sexuality, the evolution of the Brazilian 'povo' as a historical and literary protagonist in the 20th century, and the struggle for racial justice. All of which highlighted not only that Amado's legacy is one to be reckoned with, but also that his writing continues to articulate with struggles for social equality and freedom in today's world.
[E.N.C.]