09 July 2012
Civil War Project: Abraham Lincoln in Black and White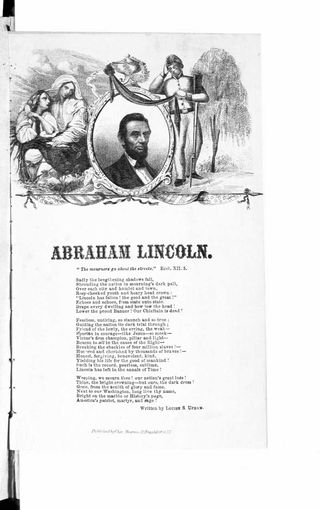 The end is in sight for the US Civil War project.  Most of the materials have been digitally photographed or scanned.  These have been renamed to try and reflect the pagination or foliation of the items, and then converted into 'zoomable' images before they are added to www.bl.uk/manuscripts (and, if they are printed materials, added to the catalogue driving the system that we are piggybacking on).  I've just received a wonderful batch of maps, which I hope to share shortly, and was able to put online the Library's copy of Gardner's Photographic Sketchbook of the War, vols. 1 and 2 (let me know your thoughts on the lack of blank recto pages in the viewer).  The online gallery 'feature' on Britain and the U.S. Civil War is also almost ready to go once there is a critical mass of digitized materials online.
This said, like any campaign, there are the occasional setbacks.  We recently acquired a collection of a printer's proofs of Civil War song sheets [RB.23.b.7019].  I was particularly looking forward to seeing the images of these, as they are often colourful, as well as capture something of the everyday life of the war from all sides of the conflict.  They are individually catalogued on explore.bl.uk, so the collection also raised a few issues about how to catalogue them for www.bl.uk/manuscripts, a process that promised to be a useful experiment for the system. 
I've just collected the images from the studio, but it looks as though I've collected greyscale jpegs, rather than getting colour tiffs as is usual (even the proofs weren't originally coloured, there is something about the quality of the paper and print that only colour images record).  A small hiccup, which will easily be remedied.  Meanwhile, here's one of the jpegs (top) lamenting the loss of Abraham Lincoln (which, in any case, isn't coloured).  As I said, more to follow.
[M.J.S.]