11 July 2012
US Civil War Project: What time is this place?
 
This work (History of the Civil War in the United States, 1860-1865, Toronto, 1897 [Shelmark Maps.71492(39)], by Comparative Synoptical Chart Co., Limited), identified by The British Library, is free of known copyright restrictions.
I mentioned the maps in my last Civil War post.  Most of them are as one would expect: campaign maps or overviews of the territory produced for an eager public in Britain and the States.  Some, however, are a little different, such as Prang's bird's eye-view maps.  And some are very different, such as the one above.  You can see a little more of what is going on in this enlargement: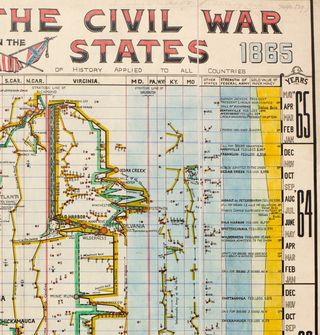 In this large-scale map, the history of the war in the major states is charted, and mapped against contributing factors, such as the stength of the army, the relationship between gold and paper money, and national and international events, such as the Trent Affair. It was published by the Comparative Synoptical Chart Co., and is a particularly fine example of the nineteenth-century vogue for representing historical events visually: an early educational example of the infographic.  (The Co. also drummed up interest in its products through newspaper quizzes, offering Century bicycles as prizes).   There's more on this sort of thing in Daniel Rosenberg and Anthony Grafton, Cartographies of Time (New York, 2010) and also on Stephen Boyd Davis's blog, http://chronographics.blogspot.co.uk/.  Those flumuxed by the chart above could also resort to an Index with 'Introductory Notes'; today, you can also read it online.
A larger, downloadable version of the chart is currently available via the Library of Congress.
[M.J.S.]