A Bond formed with conviction: linking Australia and Canada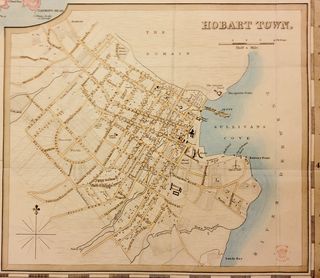 Detail of Hobart from 1839 map of Van Diemen's Land [BL Shelfmark: Maps 92405.(2.)] illustrating the town roughly as it would have been found by Canadian convicts
The rebellions of 1837-38 are perhaps a lesser known part of Canadian history in the wider world. Yet these rebellions and the resulting changes to Canadian governance were to have consequences across the British empire. In particular, the Canadians who participated in the rebellions were transported to Van Diemen's Land and New South Wales.
So this is another one of my blogs which links the Americas and Australasian collections, and is also an opportunity to point out that the Library holds a number of sources on the Canadian rebellions - for example, The Life and Times of W. L. Mackenzie, with an account of the Canadian rebellion of 1837… [1862, BL Shelfmark: 010882.g.7] and The Canadian Rebellion of 1837 [1896, BL Shelfmark: 09555.c.3].
I was also struck by the materials held which give an insight into the situation awaiting these Canadian transportees upon their arrival in the settlements of the Great Southern Land.  Of particular note is Hobart, where 92 followers of Mackenzie arrived in 1840. The above map gives a sense of what Hobart was like (one year before their arrival) and publications are also held by the Governor of Van Diemen's Land at the time. This was Sir John Franklin, whose name we associate with colder climes, but who spent some of his career considering and administering convict discipline. A record of these thoughts (from 1838) can be found in, Convict Discipline in Van Diemen's Land [BL Shelfmark: 7002.d.10].
[PJH]