17 August 2012
Mrs Hemingway, Mr Hemingway and Miss Pfeiffer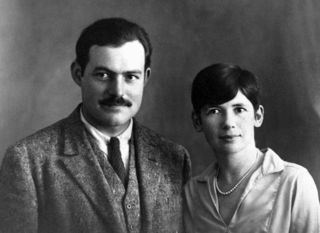 Ernest Hemingway and his second wife, Pauline Pfeiffer. Photograph courtesy of Ernest Hemingway Photograph Collection, John F. Kennedy Presidential Library.  
'All things truly wicked must start from an innocence' Ernest Hemingway wrote in A Moveable Feast, a memoir published after his death in 1964.
The last story of the Feast tells of a married couple 'infiltrated' by a rich young woman. It is the story of Hadley and Ernest and his mistress, Pauline Pfeiffer. Miss Pfeiffer, Hemingway wrote, used the 'the oldest trick' there is to snag a husband: becoming the wife's 'temporary best friend'. The story casts the Hemingways as innocents caught in the net of a rich socialite.
But other sources show a more complicated picture. Carlos Bakers' Selected Letters, for example, shows an eminently more remorseful Ernest. In a letter to Fitzgerald in November 1926, Hemingway wrote 'Needless to say Hadley has been grand and everything has been completely my fault in every way. That's the truth, not a polite gesture.'
Two other volumes also show Hadley taking some share of the blame. Gioia Diliberto suggests Mrs Hemingway's passivity contributed to Pauline's success in her biography Hadley. 'I tend to give up before other people do,' Hadley commented. 'I should have said to her, "No, you can't have my husband." But I didn't.'
Hadley had had a lonely life before she met Hemingway. In many ways this made her too grateful for his 'rescue' six years earlier. 'He gave me the key to the world,' Hadley told her first biographer, Alice Sokoloff, in her book The First Mrs Hemingway. When someone else was favoured with this key, Hadley kept schtum and did not protest.
And yet A Moveable Feast has become perhaps too dominant in how we read the unhappy Hemingway ménage-a-trois. In his early letters Hemingway writes of his urgent and aching love for his mistress: 'All I want is you Pfife and oh dear god I want you so,' he wrote as the divorce papers landed on his desk from Hadley, 'I love you love you love you so – and I'm yours all shot to hell'.
Furthermore, a recently published 'restored' edition of A Moveable Feast (2010) includes much material excised from the 1964 publication. While the Feast is remembered as a eulogy to Hadley, the 2010 edition goes some way in restoring Pauline's reputation as something more than a snake in Dior. 
'For the girl to deceive her friend was a terrible thing but it was my fault and blindness that this did not repel me. Having become involved in it and being in love I accepted all the blame for it myself and lived with the remorse,' reads a 'redacted' section from the new edition.
Though much less satisfying as a piece of prose, the restored edition refutes the simple geometry of a married couple infiltrated by an outsider. The 1964 edition reads: 'I loved her and I loved no one else.' But the 2010 edition shows the hell of when 'you truly love two women'. The 2010 Feast does not exonerate Pauline, but it does lighten her load.
Everything, in the end, is of course conjecture, but by casting the nets further out than just the 'definitive' Moveable Feast, we can see how the wickedness and innocence might just have belonged to all three.
Naomi Wood is one of the current Eccles Centre Writers in Residence and will be talking about her novel Mrs Hemingway at the Summer Scholars Series at the British Library on 22 August.