14 September 2012
The Empire of Haiti: digitising some of the Nineteenth Century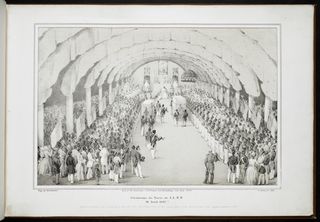 Coronation of Faustin I, from Album Imperiale d'Haiti, New York 1852

A short but well-illustrated Team Americas post this week. We've all been a bit busy (especially Carole and Matthew who are currently refining the Kerouac exhibition labels like a pair of master sculptors). One of the things I'm currently working on is making a home for some Haiti materials we recently had digitised and so today seemed like a good time to share some highlights of the content with you.
The whole selection is quite broad, composed of various manuscripts, maps and a book of lithographic prints. Two of the book's prints and one of the maps are on show here. The book Album Imperiale d'Haiti commemorates the coronation of Faustin I (previously Faustin-Elie Soulouque). Above is the coronation scene and below the lavish frontispiece. The book also contains a further scene of Faustin leaving the ceremony and portraits of a number of dignitaries.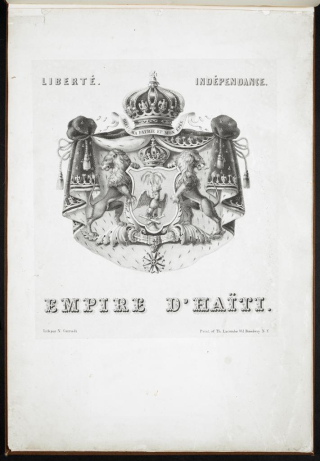 Frontispiece from Album Imperiale d'Haiti, New York 1852
Due to the impracticality of uploading .tiff files to the blog what you see here are very low resolution images. Once the full size versions are up you will be able to see them in all their zoom-able glory. While the maps were designed to be viewed in microscopic detail, I doubt that the engraver for the Album imagined that his work would ever be looked at so closely - and I suspect there are some interesting omissions in the landscape plates for keen-eyed viewers.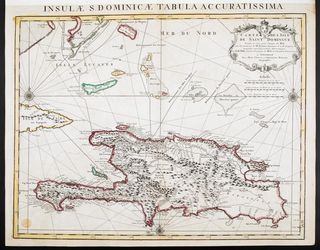 Carte de l'Isle de Saint Domingue, 1722 [BL Shelfmark: Maps.K.Top.123.35]
Team Americas is feeling very digital at the moment, with the American Civil War, War of 1812 and this project all going on at the same time. We'll keep you posted as to how all of them are coming together - look for any announcements interspersed amongst the On the Road quotes on our Twitter stream.
[PJH]