25 September 2012
Waiting for the scroll: On the Road is coming
It's been a busy month for all of Team Americas, with much of my and Matt's time in particular taken up with activities relating to our forthcoming exhibition On the Road: Jack Kerouac's manuscript scroll. Yes, we're excited at the prospect of the arrival next week of Jim ('keeper of the scroll') with the typed manuscript, which will exhibited from 4 October until 27 December in our newly re-launched Folio Society Gallery in the Library's Front Hall.
The scroll will be taking centre stage in a specially designed 16 metre case so we decided that the accompanying BL material should focus on our sound recordings and Steve has put together a great 'soundtrack' to the scroll and the Beat Generation. You will be able to hear several contributions from Kerouac, including an excerpt of On the Road, jazz recordings which echo references in the novel, plus Allen Ginsberg reads Howl, and there are contributions by William Burroughs, Herbert Huncke, Joyce Johnson, Carolyn Cassady et al. Oh, and there's Neal Cassady reading Proust too!
And the exhibition should look great, thanks to Fiona's design and the generosity of Carolyn Cassady, the Allen Ginsberg Estate and the Kerouac Estate in letting us reproduce some wonderful images. So, schedule your visit now. The exhibition is free and there's also an excellent events programme, including a preview screening of Walter Salles' new movie.
Regular readers of the blog will know that we've highlighted our sound recordings relating to the beats before, but if you're a new reader, here's the link to a bibliography Steve put together some years ago. We also have really strong printed collections, and here's a bibliography of those (be warned, it's BIG). Picking just a few of these books to put in the exhibition was very difficult so we've opted for the holy trinity of Kerouac, Ginsberg and Burroughs, with just a couple of others.
Apart from writing Kerouac labels, I was also involved in our Inspired by Artists' Books event on 4 September, at which we showcased some of our wonderful artists' books and fine press holdings (here's Fran's blog on the event).  I suppose it was inevitable that my brain would end up connecting the 2 themes so I started to think about whether we had any beat-related books which fall in to this category. Of course we do, and I featured Bill Burroughs and David Bradshaw's Propagation Hazard at the event. But for this blog, I've chosen a Kerouac title. It's by Mark McMurray, a colleague who is Curator of Special Collections and University Archivist at St. Lawrence University, teaches courses on the history of the book and printing, and who set up his own Caliban Press in 1985 - how he finds the time I don't know! Anyway, Mark has made a couple of jazz-related titles, small, but perfectly formed and lovingly made, and here is an image of his History of Bop by Jack Kerouac.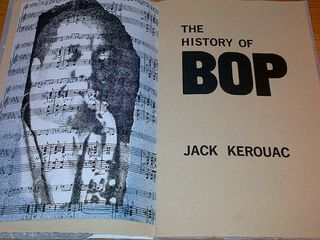 Caliban Press, 1993