30 October 2012
Post the Post-Tropical Storm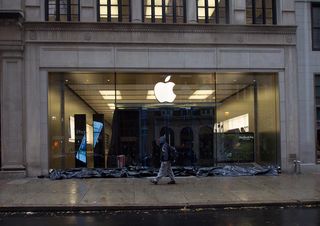 Thankfully my fellow
Fellows' predictions
didn't come to pass, and we kept power during the storm (although some in south Philly lost theirs). The cops came out to check some jerry cans left in a truck opposite the repository of some of the nation's most precious books and manuscripts, but deemed them safe. A chunk of metal got blown down from somewhere, and then clattered about the street for the night. The merlot was disappointing. But, that, thankfully was it. We were lucky.
It was another story for pretty much everything east of the Delaware (and, indeed, elsewhere). You will have seen the reports from New York that look like a slide from an Al Gore presentation. Several million are still without power. People have died. The governor of New Jersey has proposed delaying Halloween, and absentee ballots have been extended in several of the worst-hit counties. Long Island will have some tales as bad as 1938, if not worse.
Twitter, I think, told the most telling story, as the snark drained from people's timelines as news from the several feeds reporting on police scanners spread across the internet (the NYTimes's David Carr called it right). Earnest debunking of rumours and hoaxes (a shark in New Jersey, anyone?), along with expressions of concern, verified reports, and official updates instead filled up the timeline. Usually active friends and colleagues fell silent as power outages, server fails and iPhone batteries drained. They'll be back soon enough; that's the American way, as politicians and governors have been keen to say. And they are right.
Here's just one tweet from the night. I like the screen grab.
The eye of Sandy is over Philadelphia. twitter.com/KathyOrrCBS3/s…
— Kathy Orr (@KathyOrrCBS3) October 30, 2012
And, the last word from
Joshua Lyman
.
[@_MattShaw]