01 November 2012
A History photographed: Canada in World War 1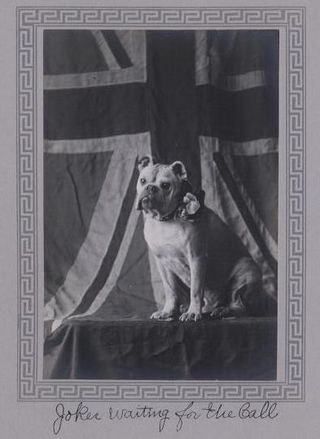 Joker, patriotic fund collector

This work (Joker, waiting for the call, shelfmark HS85/10, by creator: D. Will McKay, producer: British Library), identified by British Library, is free of known copyright restrictions.
A milestone to celebrate with you all today. After much selection, work-flow organisation, scanning, quality checking and metadata addition, a selection of photographs of Canadian troops departing for war in Europe is now available via the Library's Digitised Manuscripts catalogue. The photographs are a small part of the Library's contribution to the Europeana Collections 1914-1918 project and will be co-hosted on the British Library and Europeana sites.
The Canadian WWI photographs are part of a collection we've written about here before; it contains the work of Canadian photographers who copyrighted their work between 1895 and 1924. As a result, the collection contains a number of photographs relating to the war, although almost all of them are produced on Canadian soil. These have been digitised for the Europeana project and just over 150 pictures of regimental mascots, soldiers leaving for Europe, Canadian war work and military inspections are available to search and view in detail.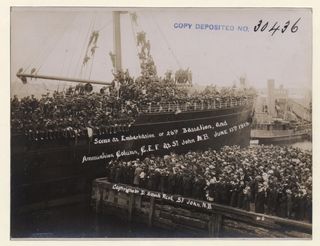 26th Batt. departing

This work (Scene at embarkation of 26th Battalion and ammunition column, by creator: D. Smith Reid, producer: British Library), identified by British Library, is free of known copyright restrictions.
The bulk of the pictures are battalion panoramas and the scale of these always drives home to me the horror of the war – rows and rows of individuals marching off to a mechanised war which consumed the lives of so many. With that in mind, making these items available online is perhaps a good way to mark the centenary of the war; a forceful reminder of the individual and social cost of the conflict.
If you would like to browse the whole collection of photographs the best way to do this (at the moment) is to use the search function on the homepage of Digitised Manuscripts. Simply add 'Canada' as a keyword and reduce the date range to '1875 – 2000', this should bring up just over 150 results. There are a few teething problems to sort out and we're working on them right now, but if you find any you have my apologies.
[PJH]