13 November 2012
Exploring Cuba - from St Pancras

It has been 110 years since the United States ended its official occupation of Cuba in 1902, which began in 1898 at the end of the so-called 'Spanish-American War.' Digging around our manuscripts collections I recently discovered that we hold the papers of a certain Melville Preston Troy, who worked in the customs office of U.S. occupied Havana (Add MS 71718). On the face of it one may think detailed accounts of tariffs and customs checks hardly qualify as stimulating reading. However, the papers are a truly fascinating collection, comprised predominantly of letters and reports that shed light on the increased role of the U.S. in Cuba's economy in the 20th century. One report in particular goes into great detail regarding the importance of lowering tariffs on sugar, cattle and tobacco imports from Cuba- as these would prove to be major areas of investment for U.S. companies. The papers also reveal the ways the Caribbean and Latin America figured significantly in the lives and consciousness of Americans in the 19th century. Incredible historical sources, the papers are also unique biographical documents that offer a window on to how one man from North Carolina found himself in involved in one of the great anti-colonial conflicts, and then later came to London as an executive in a tobacco company – which is how his papers eventually ended up at the British Library. 
The long and devastating struggle for Cuban independence from Spain started long before the United States became involved in 1898 and was comprised of three conflicts: the Ten years War 1868-78, the Little War (La Guerra Chiquita) 1879-80 and the Cuban War of Independence 1895-98. Students of Cuba's protracted fight for independence will be interested to know that the Library has a copy of Album Histórico Fotografico de la Guerra de Cuba desde su principio hasta el reinado de Amadeo I., etc. (BL shelfmark 9771.h.7). Published in Havana in 1872 the book contains rare photographs from the Ten Years War such as this one of the pro-Spanish 1st Battalion of Volunteers of Havana: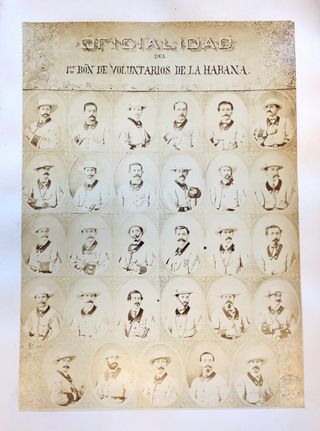 This work (Album Histórico Fotografico de la Guerra de Cuba desde su principio hasta el reinado de Amadeo I., etc.), identified by British Library, is free of known copyright restrictions.
Reaching back to nearly a century earlier, the Library has another interesting set of papers on occupied Havana when the British took the city in 1762.  The Keppel Papers consist of papers of and collected by Sir George Keppel, including port permits, trade licences, and Keppel's personal correspondences. Our Cuban holdings don't stop there, though. Which is just another reason to come and dig around for yourself!
[E.N.C.]