15 November 2012
From the Collections: Captain Cook and the Nuu-Chah-Nulth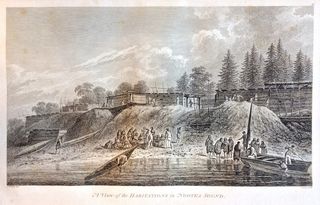 'A View of the Habitations in Nootka Sound' plate held at BL: 456.h.24
 
This work (A Voyage to the Pacific Ocean...,London: W & A Strahan, etc., 1784), identified by British Library, is free of known copyright restrictions.
 Once again I've been calling up some of the many works of Captain James Cook from the Library's storage areas, this time to look at his notes and illustrations relating to his searches for the fabled 'great southern land' and the North-West Passage. While my reason for calling the items up was more concerned with the frozen seas of the Arctic and the Antarctic, as usual I was waylaid by some other writings and illustrations that I came across.
In October I was able to take something off my long 'to-do' list when I visited UBC's Museum of Anthropology. The collections held there, together with the various economic and political issues affecting today's inhabitants of British Columbia made me think of the dramatic changes that have happened subsequent to Cook's contact with the area. With this in mind I let myself wander to a series of plates dedicated to the people and material culture of the Nuu-Chah-Nulth.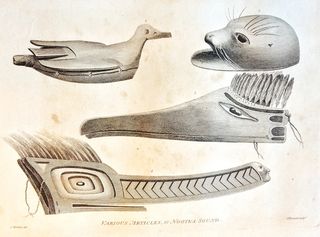 'Various Articles at Nootka Sound' plate held at BL: 456.h.24
The illustrations of the area (I think done around Yuquot), its people and material culture, are both interesting and useful records. But, as with many travel accounts of the period, they (together with the notes and images which document all of Cook's three voyages), are indicative of an imperial way of seeing the various peoples encountered, an emphasis being placed on their 'Otherness' to European eyes.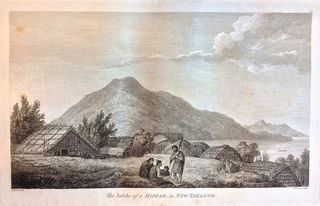 'The Indie of a Hippah in New Zeeland' plate held at BL: 456.h.24
The materials relating to Cook's voyages have been published in many forms, including the exhaustive 'A Voyage to the Pacific Ocean…' [BL Shelfmark: 454.h.9 -11], with which these plates are associated [but stored separately at BL Shelfmark: 456.h.24]. The Library also holds various accounts of Nuu-Chah-Nulth culture and post-contact history, although many of these need to be searched for using the term Nootka (as used in the works' titles).
[PJH]