20 December 2012
Cold Comfort: Royalty and Polar sovereignty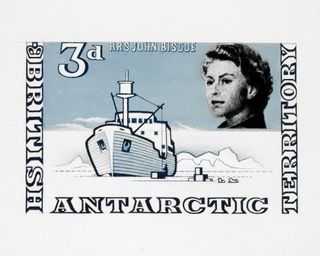 Artwork for the British Antarctic Territory: 1963-69 3d deep blue. From the Crown Agents Philatelic and Security Printing Archive held at the British Library [copyright restrictions apply] 
Wednesday was a busy news day but most will have seen the announcement that part of Antarctica is to be renamed Queen Elizabeth Land in order to commemorate the Queen's Diamond Jubilee. In a year where tributes have ranged from river pageants to daring entrances to the Olympic Opening Ceremony this perhaps seems an odd or remote decision, but its geopolitical significance is already being noted.
The naming of territory has always been an important part of underscoring sovereignty claims. The history of the Americas, for example, is populated with many instances of names being applied to places in order to stake or sure up colonial ambitions. Within the name game Royal monikers have always resembled top trumps, with the British and other nations using monarchic associations to back up claims.
Such a heritage means that areas of the Arctic and Antarctic named after British monarchs are fairly common. During the nineteenth century search for the Northwest Passage, Victoria Island was named by Dease and Simpson in 1839 and Prince of Wales Island was named in 1851 by Captain T. H. Austin during his search for Franklin. The etching of these names onto the map of the Arctic took place at a time when the geopolitics of the area were intense and the potential gains from locating a Northwest Passage thought to be huge. As a result you can also find many items from these expeditions in the Library's collections; Simpson  writes about the work he and Dease conducted between 1836 and 1839 in a work held at Shelfmark 1424.h.2, and a map of Austin's discoveries can be found at Maps.982.(48).
Continuing this theme, Queen Elizabeth II also has the honour of providing a name to an Arctic territory with the Queen Elizabeth Islands being re-named to mark the coronation in 1953. These islands had been noted by William Baffin in 1616 and were rediscovered in 1818 by Sir John Ross. Again, books and maps relating to these expeditions can be found in the collections. It is worth noting that the 1953 re-naming of these islands coincided not just with the coronation but with a resurgence of Canadian interest in the Arctic as a result of its status as a theatre of the Cold War.
Going back to the Antarctic, we should also note that Queen Elizabeth II is not the only British monarch to have part of the continent in her name. In 1841 Captain Ross took a break from splashing his name (and that of his ships) across the land and named a large part of the continent Victoria Land. Published works by Ross are also held here, with his 1847 'A Voyage of Discovery and Research in the Southern and Antarctic Regions' [Shelfmark: 2374.f.6] and other works available for consultation in the reading rooms.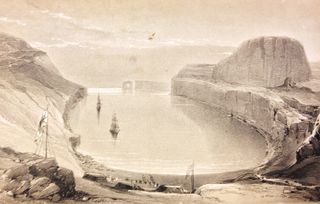 This work (Frontispiece from J. Ross, A Voyage of Discovery and Research in the Southern and Antarctic Regions, 1847) identified by British Library, is free of known copyright restrictions. [BL Shelfmark: 2374.f.6]
Needless to say, I will be trying to acquire anything relevant to the naming of Queen Elizabeth Land - and our new Broadcast News service in the reading rooms will have already picked up the news reports.  
[PJH]