11 January 2013
From the collections: Mary Seacole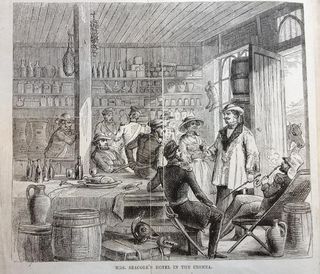 'Mrs. Seacole's Hotel in the Crimea', insert from, 'The Wonderful Adventures of Mrs. Seacole in Many Lands' [BL Shelfmark: 12601.h.20]
[Update] For International Nurses Day 2020 we are revisiting this post on Mary Seacole, her work and the book, 'The Wonderful Adventures of Mrs. Seacole in Many Lands'.
When something from the news catches my eye I occasionally have time to pull some relevant items up from the Library's collections. The recent stories about Mary Seacole's place in the curriculum pointed out to me, someone who didn't have the privilege of learning about Mrs. Seacole at school, that I didn't know enough about someone who had an important place in British military history.
The major work we hold on Seacole is her autobiography, 'The Wonderful Adventures of Mrs. Seacole in Many Lands' [1853, BL Shelfmark: 12601.h.20]. It is a fascinating little book and many things about it caught my eye, not least the introduction from W. H. Russell (correspondent for the Times in the Crimea, he also covered the US Civil War). This glows about Seacole and notes, 'If singleness of heart, true charity, and Christian works; if trials and sufferings, dangers and perils, encountered bodily by a helpless woman on her errand of mercy in the camp and in the battle-field, can excite sympathy or move curiosity, Mary Seacole will have many friends and many readers.' (p.vii)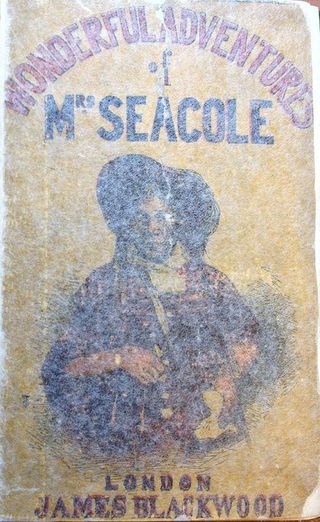 Cover of, 'Wonderful Adventures of Mrs. Seacole in Many Lands' [BL Shelfmark: 12601.h.20]
I have always taken an interest in such dedications as they illustrate something of who took an interest in such books and perhaps say something of the underlying purpose of the publication. As an aside, in earlier works I find subscriber lists to be equally interesting, showing who took an interest in the contents of historically significant works. A good example here is Olaudah Equiano's, 'Interesting Narrative' which counts the Prince of Wales, Duke of York and entrepreneurs such as Josiah Wedgwood among its 9 pages of subscribers [1789, 1st edition; BL Shelfmark: 615.d.8]. I would suggest then that the dedications and subscribers found in these works speak to the importance of these individuals and their publications in their own time, even if we have since forgotten.
Both Mary Seacole and Olaudah Equiano have had much written about them in the intervening centuries and many of these works can be consulted here at the Library. However, for anyone wishing to become aquianted with Mary Seacole, Olaudah Equiano and other historical figures currently being discussed in the news I would recommend viewing their history from their own perspective as a first port of call.
[PJH]