24 January 2013
Let's Emigrate! To Canada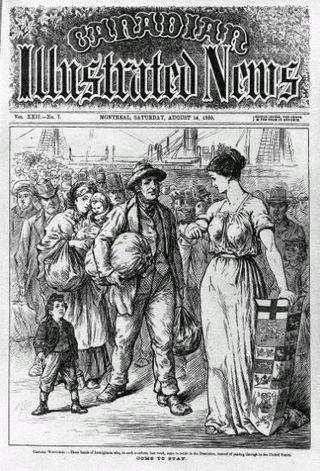 'Come to Stay' by Henri Julien, printed in the 'Canadian Illustrated News' [1880, copy in the BL newspaper collection]. Image from Wikipedia, courtesy of Library and Archives Canada.
It's that time of year again, when many of us start to think about what it would be like to live in a climate of year-round warmth. Oddly though, it's usually around this time of year when my mind meanders onto the large selection of British Library materials detailing the possibilities of emigrating from Britain to nineteenth century Canada.
While the Library's collections document, sometimes inadvertently or in passing, the migration experiences of the many different populations who moved to Canada it is in illustrating the opportunities for English, Irish, Scottish and Welsh families (and individuals) that it provides the richest source. Particularly for the mid-nineteenth century the collection holds many items that document the potential of Canada as well as alluding to some of the push factors causing people to consider taking a risk on the empire.
Locating this material takes a little doing, not least because, as with the above illustration, a number of interesting sources are articles or depictions that form part of a larger holding. However, there is a large cache of items that can be found using the search terms 'emigrate British North America' or 'emigrate Canada' in Explore (you can also do this by province). Items returned from this search include, 'Shall we Emigrate' [1885, BL Shelfmark: 10411.bb.25(5)], 'Emigration Practically Considered' [1828, BL Shelfmark: T.1244(7)] and 'North America Viewed as to its Eligibility to British Emigrants' [1848, BL Shelfmark: 1304.a.12], to name a few. There is also a large sub-collection of microfiche material provided by the Canadian Institute for Historical Microreproductions which can be found using a subset search in Explore.
The Library also holds a few notable facsimile reprints, such as a 1971 version of Catherin Parr-Traill's, 'The Canadian Settler's Guide' [BL Shelfmark: X.955/2390]. As well as notes on the climate and agricultural prospects of Canada, which are common to many of the accounts (with varying decrees of politeness), Parr-Traill's account also includes notes on home-making, Canadian society and the opportunities for leisure. Such detail is perhaps why Parr-Traill is one of the best remembered writers in her field but the many other accounts found in the collections are worth looking at for their many details on the who, how and why of migration to Canada.
[PJH]