04 January 2013
Map of Nevis and St. Christopher: an evolving object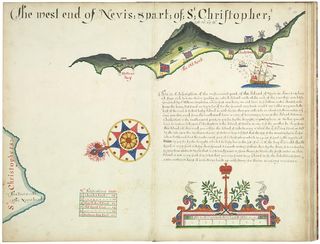 Map of Nevis and St. Christopher (St. Kitts), 1684 [Sloane MS 45] 
 
This work is free of known copyright restrictions.
There are two reasons for sharing the above with you, firstly that it is a rather beautiful and interesting old map. Secondly, that it's an example of how digital objects created by the Library in the last few years continue to evolve.
I was looking over the Caribbean Views collection, which hosts this map and a short text about it, when I noticed that its page now has a shiny 'View in Google Earth' button. Intrigued, I clicked it; only to find I don't have the plug-in installed here at the office. However, I gave it a whirl at home and rather enjoyed what I saw.
If you'd like to do the same head on over to the map's Caribbean Views page and give it a whirl. This piece of geotagging is part of the continuing BL Georeferencer project which you can find out more about here and see some of the results of here. Enjoy!
[PJH]